Türkiye-Syria quake: UN expert fears death toll may exceed 60,000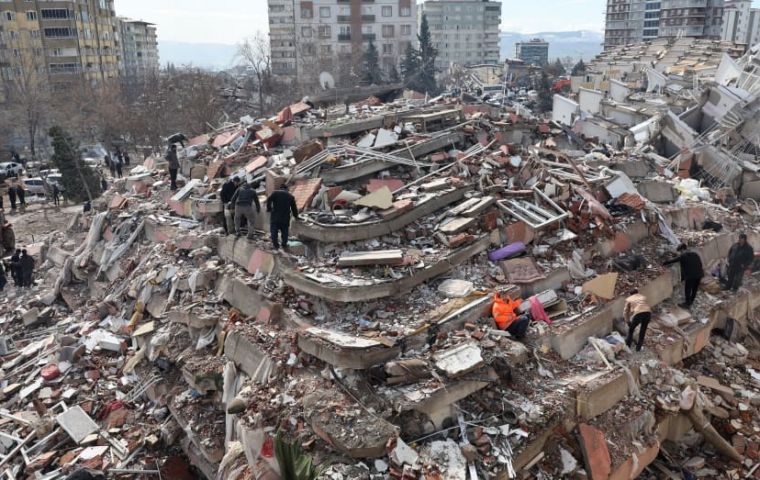 With around 33,000 people so far reported dead in both countries affected by last week's series of earthquakes and aftershocks, a United Nations expert predicted that the final number of victims will be twice as many "or even more."
In an interview with Sky News on Saturday, UN Under-Secretary-General for Humanitarian Affairs and Emergency Relief Co-ordinator Martin Griffiths said it was "difficult to estimate precisely as we need to get under the rubble but I'm sure it will double or more."
"That's terrifying. This is nature striking back in a really harsh way," he added. "It's deeply shocking... the idea that these mountains of rubble still hold people, some of them still alive... We haven't really begun to count the number of dead."
"It is the most disastrous earthquake in a hundred years," he summed up.
Griffiths welcomed the international aid offered to Türkiye and called on Damascus to take further steps to support opposition areas after authorizing the arrival of international humanitarian assistance to civil-war-torn Syria, where the death toll stood at 3,575 Sunday in addition to some 5,300 wounded, mostly in opposition-controlled areas in the northwest. In the rebel areas of Idlib and Aleppo, 2,167 people died and 2,950 were injured, while 1,408 deaths and 2,341 injuries were reported in areas in the hands of the government of Bashar al-Assad. The first UN humanitarian aid convoy arrived in northwest Syria last Thursday, almost four days after the earthquakes, and the first supplies were not delivered until Saturday. A new UN convoy arrived in northwestern Syria from Türkiye on Sunday, but Griffiths insisted more support was needed. The Syrian government announced it had approved the delivery of humanitarian aid to rebel-held areas outside its control in Idlib and that the convoy was due to leave on Sunday, although it was later postponed.
Meanwhile, Syria's Director of Civil Aviation Basem Mansour announced that the number of countries that requested landing permission at Syrian airports to provide aid to those affected by the earthquake reached 21. In a statement to SANA, Mansour said that four countries submitted landing requests in the last 24 hours, and were approved, namely they are: Saudi Arabia, Cyprus, Sudan, and Belarus.
"Syria welcomes and thanks all those who contribute to extending a helping hand to the victims of the devastating earthquake, and will accept the landing of planes from all countries wishing to send aid," the official said.
The latest figures also mention 29,605 deaths in Türkiye, where dozens of people have been arrested for looting amid harsh winter conditions as the population keeps lashing out at the government's slow response and the poor quality of the some 12,000 buildings that collapsed or were severely affected by the tremors. Authorities have arrested 12 people, including some real-estate developers, over this issue.
The World Health Organization (WHO) estimated that 26 million people were affected by the earthquake and launched an urgent appeal to raise US$ 42.8 million to fund urgent health needs.
UN Secretary-General Antonio Guterres urged the Security Council to authorize the opening of more border crossing points to send aid to Syrian rebel areas from Türkiye.
Regarding the chances of finding more survivors, Griffith argued that "they say 72 hours is the golden period (for rescues)... but just now they have pulled out someone alive an hour two ago," he admitted. "It must be incredibly difficult to decide when to stop this rescue phase and move into the next phase which is also going to have its problems," he went on.
The two devastating earthquakes that hit Türkiye last Monday had the effect and energy of 500 atomic bombs, Türkiye's Disaster Management Authority (AFAD) said Saturday. Orhan Tatar, general manager of the agency's Earthquake Risk Reduction, said that more than 2,000 aftershocks have already occurred following the quakes, most of which had a magnitude above 4. "We are facing a disaster far beyond what we anticipated," said Tatar. According to him, "the destructive effect" of the first earthquake was 65 seconds, while that of the second one lasted 45 seconds. "The area was shaken very violently for about 2 minutes," the expert said.
According to Türkiye's agency for emergency situations and natural disasters, some 32,000 people are mobilized in rescue operations, as well as more than 8,000 foreign rescuers.