Major power outage hits Cuba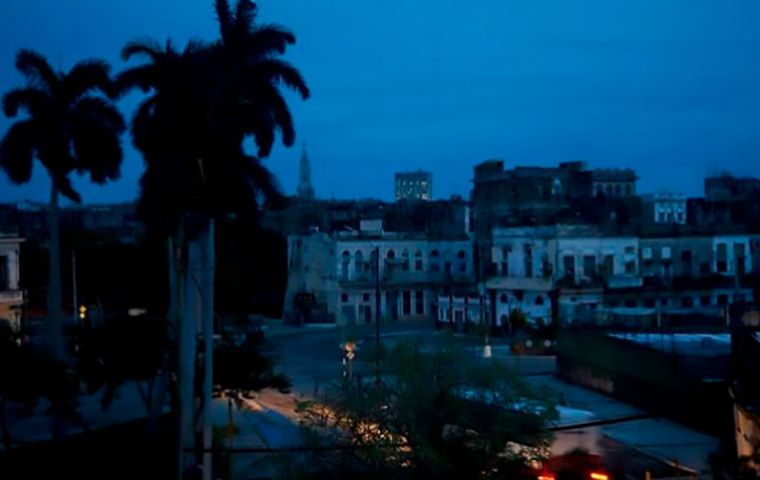 Cuba's Ministry of Energy and Mines confirmed on social media Monday that the power outage that left half the island without electricity was due to "a fire in a sugar cane plantation," it was reported.
A "failure" in high voltage lines left the center and eastern parts of the island without electricity. According to state-owned Unión Eléctrica (UNE), 7 of Cuba's 15 provinces have been without power since past noon: from central Ciego de Avila to eastern Camagüey, Las Tunas, Granma, Holguín, Santiago de Cuba, and Guantánamo.
Energy and Mines Minister Vicente de la O Levy also explained that work was being done to "reestablish the system" and said it would "take between 4 and 5 hours".
It was one of the largest power outages since Sept. 27, when no electricity was generated after Hurricane Ian hit the island's western part, leaving the entire country in a blackout.
Since then, blackouts have decreased noticeably, especially since the second half of December, and have remained at lower levels in the first weeks of 2023, with blackouts below 10% during peak demand hours, EFE reported.
Last year, blackouts were daily and lasted for up to 12 hours a day in some regions with almost 40% of the country affected at times, mainly due to aging terrestrial thermoelectric plants over 40 years old with little to no maintenance, in addition to a lack of fuel, which was all worsened by the country's economic crisis amid tightening US economic sanctions and the Covid-19 pandemic.
Blackouts scare away tourists and also generate social discontent. In this scenario, an explosion caused by "a gas leak" in a central Havana hotel left one person injured on Monday, just 10 months after 47 people died in another hotel blast in Havana.
"The cause of the incident was a gas leak," authorities reported about Monday's incident at the Caribbean hotel on Paseo del Prado, a major avenue in the Cuban capital.
Last May, there was a strong explosion at the five-star Saratoga Hotel on the same avenue, killing 47 people as the hotel was about to reopen following the Covid-19 lockdown.