Former Uruguayan President's Chief Bodyguard convicted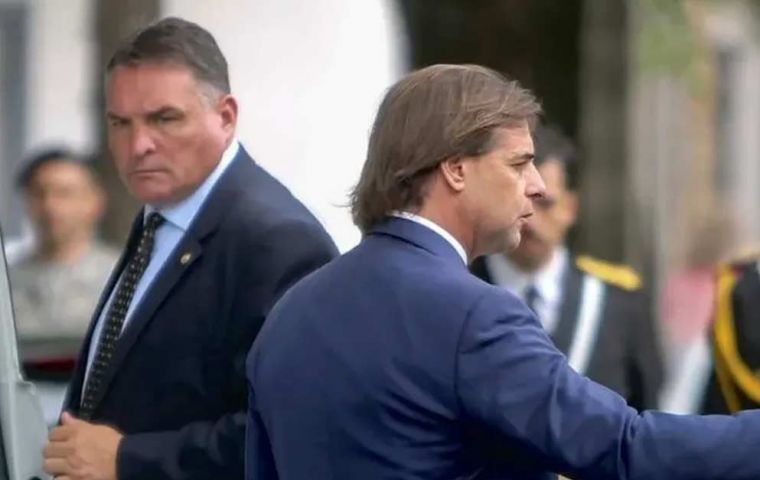 Former Uruguayan President Luis Lacalle Pou's chief bodyguard Alejandro Astesiano has been sentenced to four-and-a-half years in prison after a plea deal with the prosecution who investigated him for corruption in a case involving the issuance of passports to Russian nationals.
The case splashes the head of state, whom many find hard to believe to be unaware of these deeds. Astesiano was also fined nearly US$ 4,000.
Astesiano was thence convicted of criminal association, influence peddling, and violation of secrecy and overlapping of public and private interests after Judge Alejandro Asteggiante endorsed the agreement reached between Astesiano's legal team and Prosecutor Gabriela Fossati, who explained that the arrangement encompassed all cases involving the defendant, including those in which no crime was proved. Fossati said Astesiano's defense changed its strategy during the trial from reluctance to cooperativeness.
Fossati also pointed out that Astesiano had suffered a "parallel investigation" by the media with facts that do not boil down to actual crimes. She also noted that Astesiano's confession was one of the reasons for reaching the agreement and the ensuing speedy procedure to close the case.
The prosecutor said that Astesiano's collaboration and his confession are "valued" as the main reason to reach this agreement.
Astesiano's lawyer also asked for an end to the security measures restricting his client's mobility within the prison where he is incarcerated. He just "wants to be just another inmate," said Marcos Prieto.
Fossati also told reporters said it had been a "very important" agreement since the convicted person assumed [his] "responsibility" and a "very severe" sentence was imposed.
The prosecutor added that this agreement is "exclusive" between Astesiano and the Prosecutor's Office.