Argentina's reserves wane as "official" dollar rises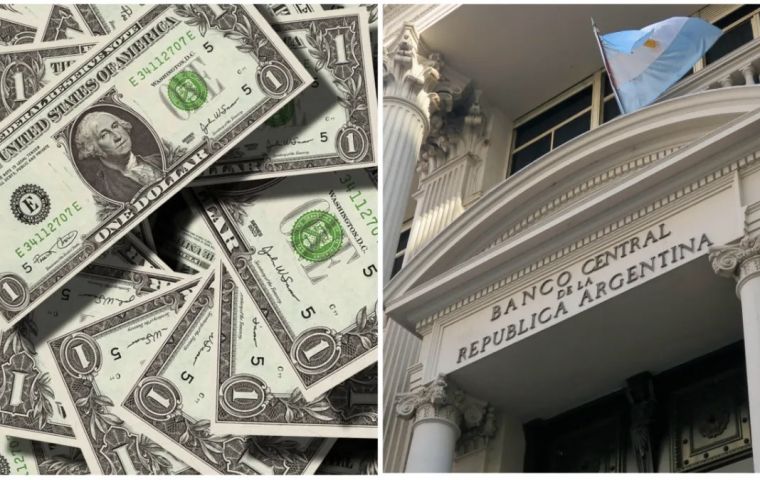 In a country where the exchange rate between the local currency and the US dollar varies from one counter to the other and hinges on the type of operation involved beyond the exchange, Argentina's official rate against Friday pierced for the first time the symbolic AR$ 200 / US$ 1 threshold at private banks, closing at AR$ 191.25 (purchase) / AR$ 199.25 (sale) at the Banco Nación.
It meant very little to most locals who use the black market ("blue") quotation (AR$ 377 / US$ 1) which remained virtually unchanged. But it did mean another dent to the coffers of the Central Bank (BCRA) which sold US$ 49 million in a move to halt an exchange rate stampede for a US$903 million deficit so far this month. The BCRA's losses amount to almost US$ 1.4 billion since January 17, when the selling streak began.
In this scenario, Argentina's reserves are way below the targets agreed upon with the International Monetary Fund for the first quarter, which heralded a strong likelihood of bold measures next week after the Feb. 20 and 21 carnival holidays.
Last Wednesday, the Central Bank had broken another record since November and had its largest negative balance by losing US$ 292 million, largely justified by an energy import payment for US$ 262 million.
Treasury sources in Buenos Aires justified the negative balance through a lower income of foreign currency from the agro-export sector and also the long- weekend during which many people travel abroad.
Analysts in the Argentine capital warned that the Central Bank was going through the worst beginning of the year in foreign currency accumulation since 2003. Hence, meeting the IMF targets is in jeopardy. The current agreement establishes that reserves should grow by US$5.5 billion in the first quarter of the year, which means some adjustments will be made to reverse the currency leaks.