US Coast Guard unit arrives in Uruguay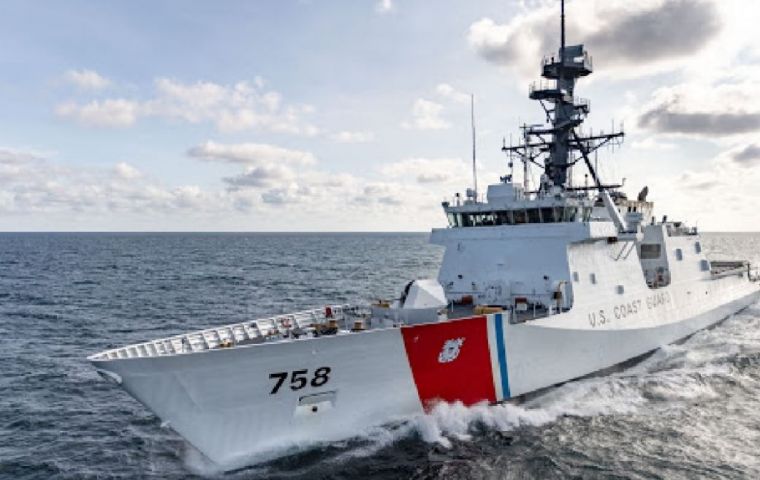 US Coast Guard Cutter USCGC Stone arrived Sunday in Uruguay as part of her South Atlantic tour to reduce illicit maritime activity and conduct joint exercises with Uruguay's Navy. The vessel's deployment seeks to develop partnerships and increase US interoperability with South American nations to combat illegal, unreported, and unregulated fishing.
This is the second visit of this vessel to Uruguay in the last two years. "This ship is a commitment to the protection and exploitation of natural resources in our seas. It has one mission, that of ensuring law enforcement so that the oceans are protected from illegal activities of all kinds," Col. Gary B. Symon of the US Embassy in Montevideo told reporters.
This mission is a "perfect beginning" for the celebration of the 70th Anniversary of the Mutual Defense Agreement between Uruguay and the United States, signed in 1953, Symon also explained.
"We are extremely proud of this relationship and look forward to continuing this partnership, with the benefits it brings to the people of both countries, for many years to come," he added.
Uruguay and the United States are parties to the Port State Measures Agreement, the first binding international agreement dealing with unreported fishing.
The Stone is the most modern vessel in the USCG, with a length of 127 meters, a top speed of 28 knots, and a crew of 120. Currently based in Charleston, South Carolina, the Stone is the ninth Legend-class national security cutter in the Coast Guard fleet. She can carry up to 4,500 tons of cargo and has been named after "US Coast Guard Cmdr. Elmer 'Archie' Fowler Stone" in honor of the first Coast Guard aviator to graduate on April 10, 1917, in Pensacola, Florida.