Brazil still looking for mudslides survivors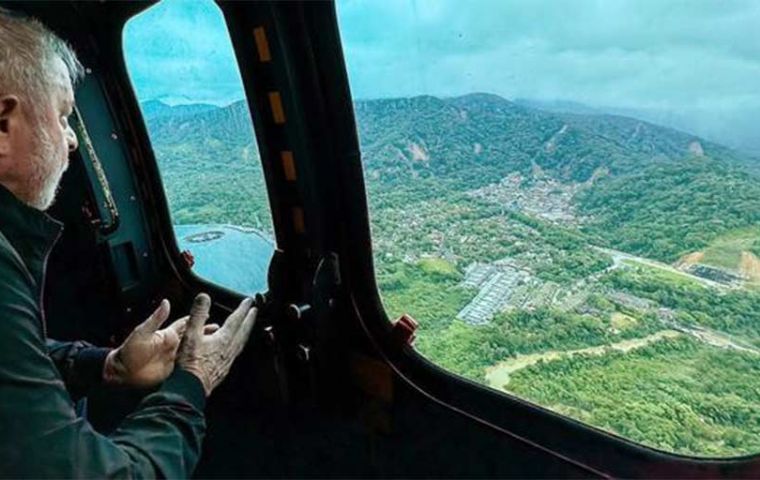 Brazilian authorities were still looking for survivors after heavy storms hit the state of São Paulo, leaving at least 40 people dead and just as many missing, in addition to over 2,500 displaced, it was reported Monday.
President Luiz Inácio Lula Da Silva visited the affected areas Monday and pledged to rebuild the destroyed houses in "safe" places, away from risk areas. "You will again have a nest to take care of your families," Lula told evacuees in São Sebastião while sending a message of unity to political rival De Freitas.
"From time to time, nature surprises us, but many times we also defy it", that is why it is necessary to think "of a safe place so that we can begin to rebuild the houses of the people of São Sebastião," Lula said.
Heavy rainfall over the weekend caused severe flooding and landslides, causing havoc in several São Paulo municipalities, where Carnival weekend celebrations needed to be halted.
Local authorities dubbed the disaster "one of the greatest tragedies in the history" of the region, which accumulated a record rainfall of 682 millimeters in less than 24 hours.
São Paulo Governor Tarcísio de Freitas, former Minister of Infrastructure under President Jair Bolsonaro, decreed a "state of public calamity" in six cities: São Sebastião, Caraguatatuba, Guarujá, Bertioga, Ilhabela, and Ubatuba.
São Sebastião was hit the hardest with 39 of the 40 fatalities reported there. The other victim was a 7-year-old girl, who died after a huge rock fell on her home in Ubatuba.
De Freitas warned that they still do not know exactly the extent of the damage to the highway connecting the cities of Santos and Rio de Janeiro, since the storm may have torn up large stretches of asphalt, given the amount of earth displaced.
Storms in the southeastern region of Brazil during this time of year are common, but in recent years they have become more intense and destructive.
In this scenario, National Civil Defense has summarily recognized a state of public calamity in the six São Paulo municipalities most affected by the weekend's rains, Agencia Brasil reported. The decision provides for more expeditious relief measures, it added.
"In this first moment, we are supporting the families who have lost their lives. We are already on site with a team from the Disaster Support Group (Gade), composed of specialists, to work in partnership with the municipal Civil Defense so that we can be more agile in our responses, information, and verification of the facts," said Regional Development Minister Waldez Góes, who was in São Sebastião with President Lula,
"Once the victims have been assisted, we must deal with the recovery, the reconstruction of the cities. Whether it's a road that was interrupted or a bridge that collapsed, for example. We will guarantee, and this is a commitment from president Lula, the necessary resources for the population and the cities to be assisted," he added.
São Sebastião Mayor Felipe Augusto said alerts had been issued from 9 pm Saturday raining started. "What was not expected was the density of these rains, which exceeded 600 millimeters in a short period of time. At 3 am [Sunday], the Emergency Coordination and Contingency Center was activated. We met in the operational center of the city hall, with the presence of the Fire Department, coordinating all the actions and already receiving the first calls of landslides and flooding," he said.
The National Center for Monitoring and Alerts of Natural Disasters (Cemaden) informed that the local civil defenses were already aware of the risks of an extreme event on the northern coast since last Thursday.
While damage is still being assessed, there are indications that stretches of the Rio-Santos and Mogi-Bertioga highways have been completely destroyed, Agencia Brasil also reported.