Former Argentine FM lashes out at Uruguayan President over Falklands trip
Tuesday, February 21st 2023 - 08:00 UTC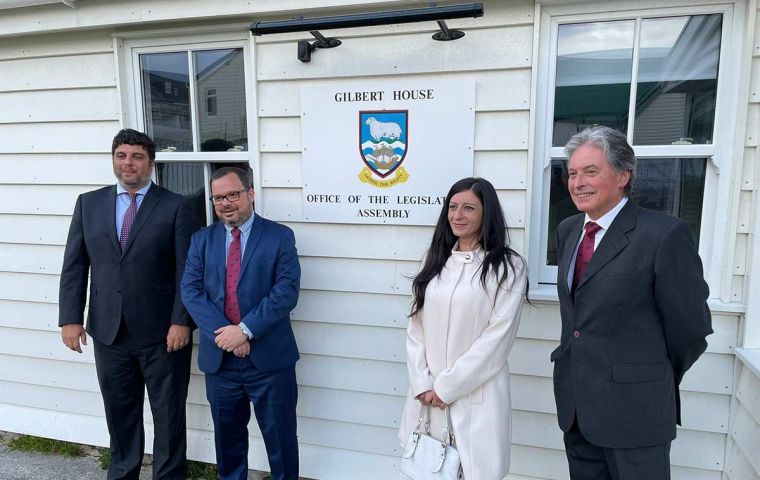 Former Argentine Foreign Minister Felipe Solá said Uruguay's President Luis Lacalle Pou's "main objective" was "to show his contempt for Argentina" after a group of lawmakers visited the Falkland Islands together with the United Kingdom's Ambassador to Montevideo Faye O'Connor.
The former Governor of Buenos Aires also said on social media that the Uruguayan authorities were betraying the legacy of [Uruguayan Independence hero José Gervasio] Artigas" when "Malvinas fishing boats and airplanes use Montevideo on a daily basis."
Solá also highlighted that he allegedly rose the issue during a meeting between Lacalle Pou and Argentine President Alberto Fernández at the Olivos Presidential residence while he still was the country's chief diplomat.
"Lacalle Pou's main objective is to show his contempt for Argentina", expressed Solá through Twitter regarding a Jan. 23 trip of four deputies of the government coalition to the Falkland Islands, following an invitation from the United Kingdom.
In his posting, Solá shared a note from an Argentine website Agenda Malvinas, which points out that during their visit the Uruguayan lawmakers supported the "self-determination of the Kelpers."
"They also talked about fishing, trade association and about the benefits of agreements outside Mercosur," the article read.
On Jan. 23, a delegation made up of Deputies Pedro Jisdonian, of the National Party, Felipe Schipani, of the Colorado Party, Luis González, of the Independent Party, and Silvana Pérez Bonavita, of Cabildo Abierto, left for the Islands in the company of British Ambassador Faye O'Connor.
Consulted by Subrayado, Schipani said Solá's statements were "nonsense" as they came from a former minister who "seeks prominence" after "being ostracized for a few months." Schipani also denied that the delegation visiting the Falklands supported the self-determination of the Islanders and wanted direct flights to and from Montevideo.
Solá was Foreign Minister under Alberto Fernández until Sept. 2021.
The article quoted by Solá also mentioned the "dream" of possible direct flights between Montevideo and the Falklands and mentioned the "collaborationism of the Uruguayan right wing in favor of the British colonial advance in the maritime and insular territory of Argentina in the South Atlantic."