New quake in Türkiye, Syria leaves at least 6 dead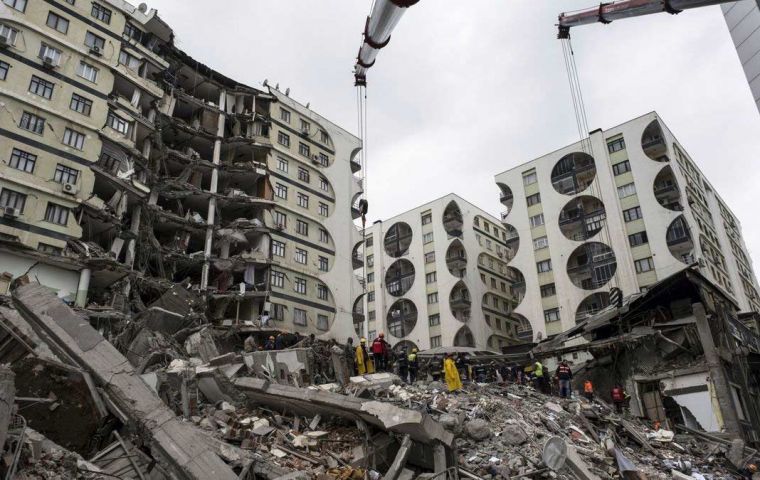 At least 6 people have been reported dead and more than 760 injured after two new earthquakes measuring 6.4 and 5.8 on the Richter scale hit the Turkish province of Hatay, one of the most affected by the Feb. 6 tremors where 41,020 victims lost their lives. Numerous aftershocks were also recorded Monday.
Turkish authorities also mentioned 294 people were injured, of whom 18 were in serious condition, TRT Haber reported. The Syrian Observatory for Human Rights, meanwhile, reported 470 injured, including people who jumped from balconies or were hit by debris. Up to 320 injured are in Syrian government-controlled areas and 150 have been counted in the northwest of the country. Syrian Civil Defense (White Helmets) said the over 130 injured civilians suffered fractures, contusions, fainting, and panic.
"Several buildings have been damaged by collapsing walls in the affected areas. Our teams are working to move the injured to hospitals, inspect the affected areas, and clear debris to open roads for pedestrians and ambulances," the WH said on Twitter.
Monday's biggest tremor, with its epicenter south of the city of Antioch, took place at 8 pm local time, according to the Kandilli observatory in Istanbul, and was also felt in neighboring countries. The authorities warned the population to stay away from the coast in the province of Hatay, as the water level could rise half a meter because of the earthquake.
Turkish Interior Minister Suleyman Soylu also warned of the possibility of more people trapped in the ruins of the three buildings that collapsed Monday. The official also admitted at least 20 aftershocks had been detected.
The tremor caused panic in Antioch among survivors housed in tents. At least one half-collapsed building collapsed and debris from other buildings damaged parked cars, NTV reported.
Since Feb. 6, none of the buildings in Antioch is still usable, but work teams might have been trapped in a collapse, while survivors usually gather around bonfires in front of collapsed buildings to help identify the bodies. These groups too may be at risk if a nearby building was to collapse.
Türkiye has already ended the search for survivors in nine provinces of the country hit by the previous earthquakes. While it is still continuing in Hatay and Kahramanmaras, those most severely affected, Yunus Seker, who chairs the country's national emergency service told reporters on Sunday. The death count toll is hence highly provisional.
According to Türkiye's Ministry of Urban Planning, the province with the highest level of destruction is Hatay, on the Mediterranean coast, with 30,000 buildings collapsed or unusable; followed by Kahramanmaras, with 22,000 collapsed buildings; Malatya, with 16,000; Gaziantep, with 15,000; and Adiyaman, with 13,000 collapses.