Navies of Russia, South Africa, and China perform joint drill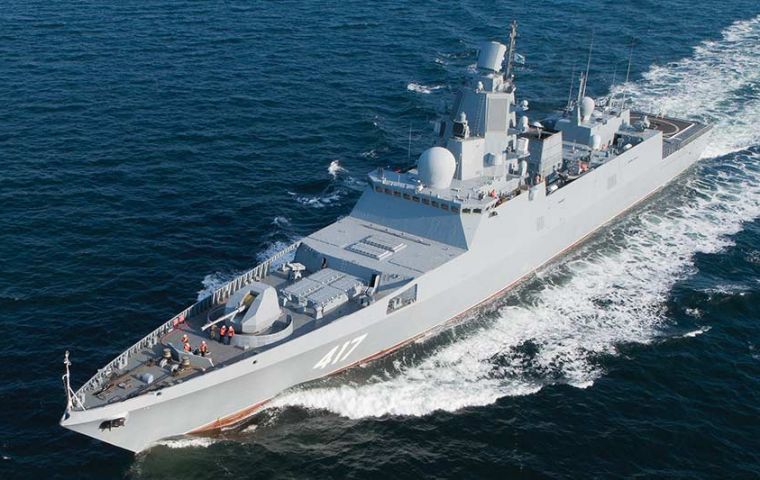 Naval forces of Russia, China, and South Africa last week started the Mosi II joint naval exercises in Indian Ocean waters between Durban and Richards Bay, including target practice, tactical maneuvers, and air strike drills, TASS reported one year after the invasion of Ukraine.
The program of the exercises includes artillery firing practice, responses to air strikes by a suspected enemy, anti-terrorist actions, tactical maneuvers, and assistance to a ship in danger of sinking.
The exercises, which will conclude Monday, focus on tasks to counter "security threats at sea" and on "readiness of the fleets' forces to jointly maintain regional peace and stability," the Russian Defense Ministry reported.
The deployment of Russian Navy's Admiral Gorshkov, which is armed with hypersonic missiles, has drawn outrage from Ukraine and many Western nations.
Russian media had reported that Russia would fire its new generation "Zircon" hypersonic missile during the exercises. But Russian naval commander Oleg Gladkiy insisted that the weapon "will not be used in the context of these exercises." Hypersonic missiles, considered particularly violent weapons that fly between five and 25 times the speed of sound, have been used by Russian forces at various points in the war in Ukraine.
There would also be sporting competitions among sailors of the three forces, it was explained.
Earlier last week the Russian ship called at the port of Cape Town, on the Atlantic coast, to replenish its supplies of drinking water and provisions, before visiting the port of Durban, on the Indian Ocean coast. The naval forces of the three countries already conducted joint maneuvers in November 2019 off the coast of Cape Town.
Gladkiy said there was no "hidden meaning in the exercises we are performing". His remarks came soon after a small yacht that flew Ukraine's flag sailed by the Admiral Gorshkov in Cape Town's harbor in protest, while a group gathered outside the Russian embassy in Pretoria to demonstrate against the drills. Gladkiy said the exercises were planned to take place from February 25 to 27 and involve ships firing artillery and performing tactical maneuvres at sea.
Aside from the Admiral Gorshkov, Russia is deploying a seagoing tanker during the drills code-named "Mosi II", which means "smoke" in the Tswana language.