Ecuador, Belgium sign cooperation deal against drug trafficking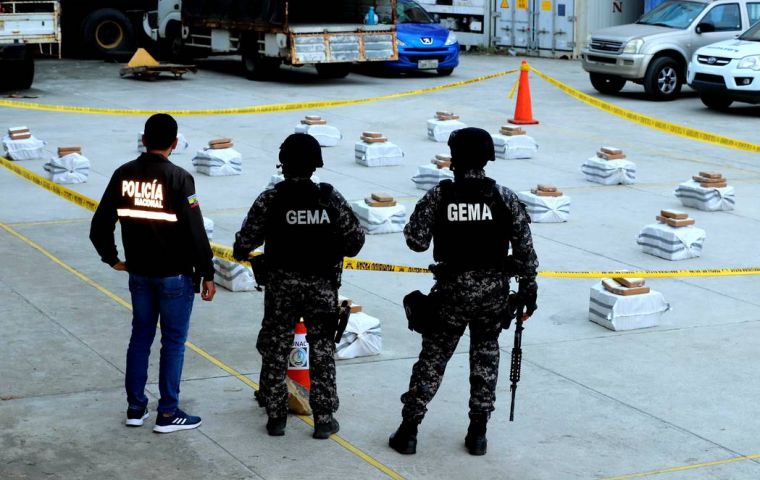 Interior Ministers Juan Zapata of Ecuador and Annelies Verlinden of Belgium Monday signed a Memorandum of Understanding whereby police forces of both countries are to exchange information and training to tackle transnational crime, it was reported. Also participating at the signing ceremony was European Union Commissioner for Home Affairs Ylva Johansson.
"This memorandum of understanding corresponds to the exchange of information, technology, training, traceability, but, above all, this communication that must exist between the Belgian police, the police of the European Union, and the Ecuadorian police," Zapata said at the ceremony in Quito.
The visit of the European officials came a day after Ecuadorian police announced the seizure of over 8 tons of cocaine in the port of Guayaquil that was about to be shipped to Belgium pretending to be regular banana exports. The same modus operandi was said to have been detected in shipments bound for Spain, according to local media. Of the 121 cocaine seizures made in the Belgian port of Antwerp, 36 came from Ecuador, Verlinden explained.
Johansson also pointed out that the European delegation would visit Guayaquil, one of the major exit points for drugs from South America to the United States and Europe. Ecuador was third behind Colombia and the United States in the amount of cocaine seized by authorities in 2020, according to the United Nations Office on Drugs and Crime's (UNODC) World Drug Report 2022.
Verlinden also highlighted the new figure of the "liaison officer of the Belgian Federal Police in Ecuador," which will help boost operations. "The actions of drug criminals are increasingly violent, both in Ecuador and in Belgium," she noted.
Zapata concurred: "It is undeniable that we require new cross-cutting responses against organized crime."
Johansson also underlined that most of the drugs arriving by sea to Europe came from Guayaquil, where violence has also increased in recent years.