Colombian budget carrier leaves thousands of travelers stranded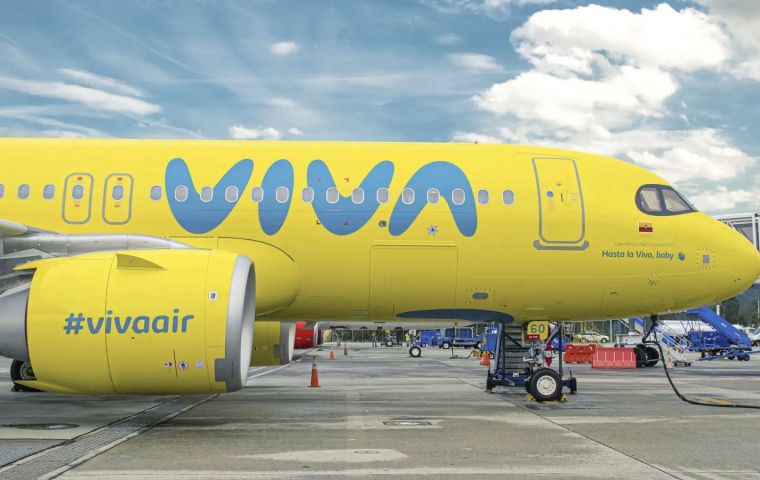 Colombian airlines Avianca, LATAM, and Satena were arranging contingency flights Tuesday after thousands of travelers were left stranded following the grounding of the financially broken budget carrier Viva Air, it was reported.
As protests mounted at the various airports previously served by Viva -chiefly José María Córdova International in Río Negro (Medellín) and Eldorado (Bogotá) - the three other companies were offering seats at no extra cost to holders of Viva tickets, subject to availability.
The Colombian Civil Aeronautics Authority assured that those with a confirmed ticket for February 27 and 28, and for March 1, would have the alternative of traveling free of charge through Latam, Avianca, and Satena. It is a better solution than the refund they were previously offered, considering that tickets on other companies were substantially more expensive than on Viva.
"We regret to inform the temporary suspension of our operations due to the lack of [a] timely definition of the Civil Aeronautics regarding the alliance between Viva and Avianca, the only possibility to continue operating and [thus] fulfill our commitments," Viva Air said in a statement.
"We inform passengers with current flights with Viva that for the time being we will not be able to honor their travel plans and we will inform them in due course of the steps to be taken following this decision," the airline went on.
With a 15% market share in Colombia, Viva Air filed for insolvency under Colombian law earlier this month. Since April last year, it has been seeking government acceptance of its merger with Avianca, which has 32% of the market, to overcome the financial problems it has been facing since the pandemic.
The government has not authorized the merger and on Monday admitted that a group of five airlines, including Aerolíneas Argentinas, LATAM, and Chile's JetSmart, would participate in the process to protect "free economic competition."
Colombian authorities said that "the Airport Intermediation Group of the Civil Aeronautics will accompany the affected passengers in the management, prioritization, and orientation before the airlines" and that the Superintendence of Transportation "will support the relevant steps, assisting the users and providing the necessary advice."
Argentine authorities confirmed Avianca had filed for clearance to operate additional flights to make room for the Viva passengers, in addition to using larger aircraft for the routes already allocated to it.