IMF picks former Chilean Minister to replace Goldfajn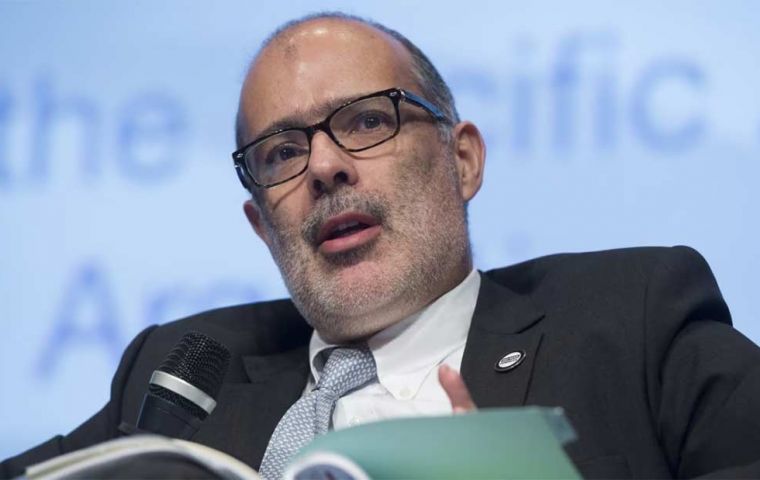 International Monetary Fund (IMF) Managing Director Kristalina Georgieva Tuesday announced that Chilean Economist Minister Rodrigo Valdés had been chosen to succeed the Brazilian Ilan Goldfajn as Regional Director of the global agency. Goldfajn left his post to become President of the Inter-American Development Bank (IDB).
Valdés, a former Chilean Economy Minister and Central Bank President, will take office on May 1.
"I am delighted that Rodrigo is joining our team as the new director of the Western Hemisphere Department. Rodrigo is already familiar with the IMF, having served from 2009 to 2012 as Deputy Director in the Western Hemisphere and European Departments, where he is remembered as a generous and intellectually influential manager as he helped countries weather the aftermath of the global financial crisis," Georgieva said.
Valdés, who holds a PhD from the Massachusetts Institute of Technology (MIT), is a professor of Economics at the School of Government of the Catholic University of Chile. He was Chile's finance minister from 2015 to 2017, and served for more than 16 years in his country's public sector, holding senior positions in the Ministry of Finance and the Central Bank of Chile, as well as in Chile's private banking sector. He also worked as chief economist for Latin America at Barclays Capital in New York.
"Rodrigo has notable experience in both the public and private sectors and is highly respected for his leadership and academic qualifications," Georgieva also pointed out.
Rodrigo's "brilliant track record as a policymaker, his remarkable analytical and communication skills, and his deep knowledge of international finance and the IMF will be invaluable to our member countries at this critical juncture for the region and the global community," she insisted.