Former Paraguayan President Lugo makes virtual Senate appearance from BA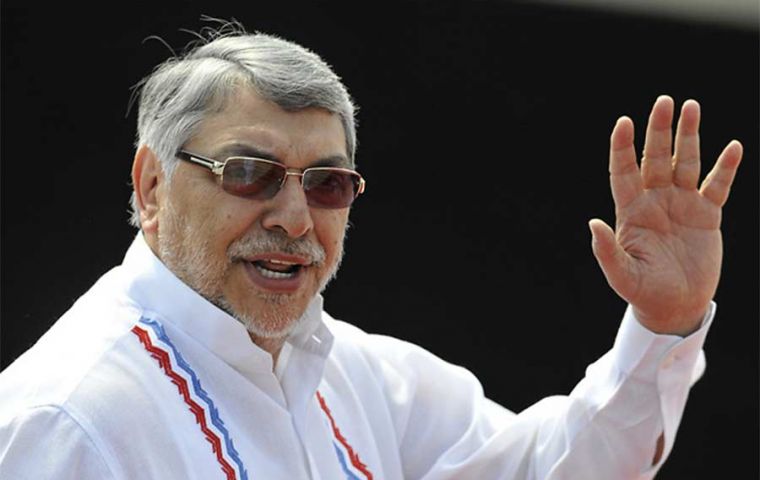 Former Paraguayan President and current Senator Fernando Lugo Thursday returned to the political arena through a virtual appearance at Asunción's Parliament from Buenos Aires, where he has been recovering from the brain stroke he suffered on Aug. 10, 2022.
Lugo was flanked by fellow Senator Miguel Fulgencio Rodríguez from the former bishop's Frente Guasu party. The leftwing politician had noticeably lost some weight, but other than that he looked healthy and smiling, although videos shared later confirmed he still has some difficulties speaking, as a result of the time he was intubated.
In his absence and with the elections looming over, the Frente Guasu will run with a unified list for the Senate but, regarding the presidency, some leaders support the National Concertation and Efrain Alegre, while others prefer Euclides Acevedo of Nueva Republica.
During the seven months that Lugo was hospitalized in Argentina, the Senate extended his medical leave several times. His replacement never took office and the ruling ANR (Colorado Party) even wanted to challenge his candidacy as senator of Frente Guasu.
Congress Speaker Óscar "Cachito" Salomón said lawmakers decided to go on with a mixed system of on-site and online appearances for a few more days. Virtual appearances have been very useful in terms of "quorum and the way of working," he explained. Salomón also pointed out the decision was justified due to the current outbreak of chikungunya.
Although the Lower House has opposed online interventions from abroad, the Senate has its own rules that allow the method.