Key members of the Irish Diaspora recognised at the inaugural Business Post Global Irish Diaspora Awards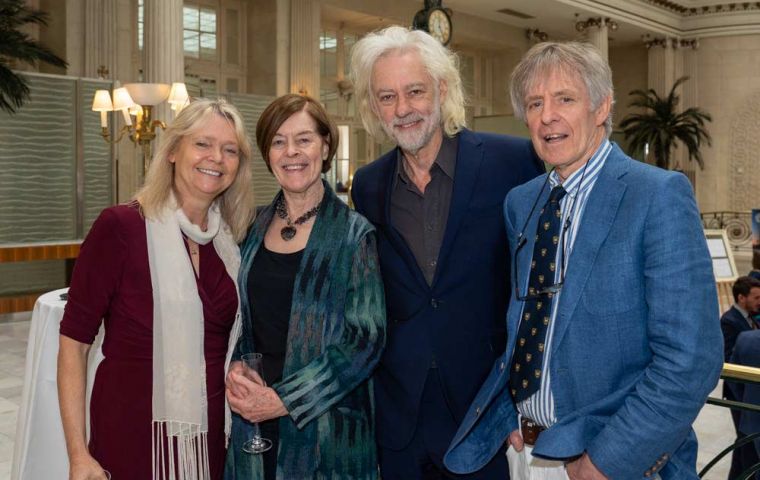 The Business Post Global Irish Diaspora Awards were held at the Waldorf Hilton, London on Friday, February 24, 2023. With over 70 million people across the globe who claim Irish ancestry, these awards have been established to recognize and celebrate the vast contribution to the world of business that Ireland and its people have made.
The prestigious awards ceremony, organised by the Business Post & iQuest was opened by Seán Fleming, Minister of State at the Department of Foreign Affairs with responsibility for International Development and Diaspora. Among the esteemed guest list, Ambassador of Ireland to the UK Martin Fraser was in attendance. Sir Bob Geldof KBE was presented with the Lifetime Achievement Award.
Other presented award recipients include Personality of the Year, Eddie Jordan; Sir Ernest Shackleton (posthumous), presented by Maritime Archaeologist Mensun Bound to Sir Ernest's granddaughter the Hon. Alexandra Shackleton; Gerry Nagle, Chairman, Amhola for his Outstanding Contribution to Global Development; Maria Doyle Kennedy, Singer and Actor for her Outstanding Contribution to the Arts and Paul Coggins, Tír Chonaill Gaels was recognised
with the Community Hero Award.
In addition, important members of the Irish Diaspora were recognised through 8 nominated award categories:
Emerging Business Leader:
Winner: Jacqueline Gilna-Turton, Founder & CEO, We Are Global Irish (CA)
Business Leader of the Year:
Winner: Jacqueline O'Donovan, Managing Director, O'Donovan Waste (UK)
Finance & Professional Services Excellence:
Winner: Orla Dunne, Global Head of Foundational Infrastructure and Head of Core
Engineering,
EMEA, Goldman Sachs (UK)
Entrepreneur of the Year:
Winner: Ryan McSorley, Founder & CEO, Neat (UK)
Diversity, Equality & Inclusion Award:
Winner: Caroline Brogan, Associate Solicitor, Irwin Mitchell (UK)
Social Impact Award:
Winner: Teresa Keating, Executive Director, Ireland Funds Australia (AU)
Building Britain Award:
Winner: JJ Rhatigan
Leader in Construction:
Winner: Tadhg Cronin, Head of Delivery, Uptown District Dubai (UAE)
Speaking from London, Minister of State Fleming said "I was delighted to be invited to open the inaugural Business Post Global Irish Diaspora Awards here in London today. As Minister for the Diaspora, I am very familiar with the achievements of Irish people all over the world in many different areas of activity, including business, culture,
community, education and more.
"Today's celebration of Irish success reflects the pride we all take in the achievements of our fellow Irish men and women. I want to congratulate all of the nominees and recipients and to thank them for playing their part in raising Ireland's global profile and burnishing our reputation as a world leader and high achiever in so many different disciplines.
"I also want to thank the organiser, the Business Post, for this very welcome initiative, a very appropriate and timely acknowledgement of Global Ireland and of the Global Irish".
CEO of the Business Post Sarah Murphy, was pleased with how the awards ceremony went.
She said, "The inaugural Business Post Global Irish Diaspora Awards succeeded in recognising the incredible impact Ireland and its people have made around the world. The Business Post Group is delighted to be in a position to recognise those who have achieved excellence in business, as well as those who have made an extraordinary impact to the lives of others through philanthropic, cultural and community initiatives.We look forward to strengthening the relationships built at the awards today in the years to come."