Uruguayan February exports 8% less than same month last year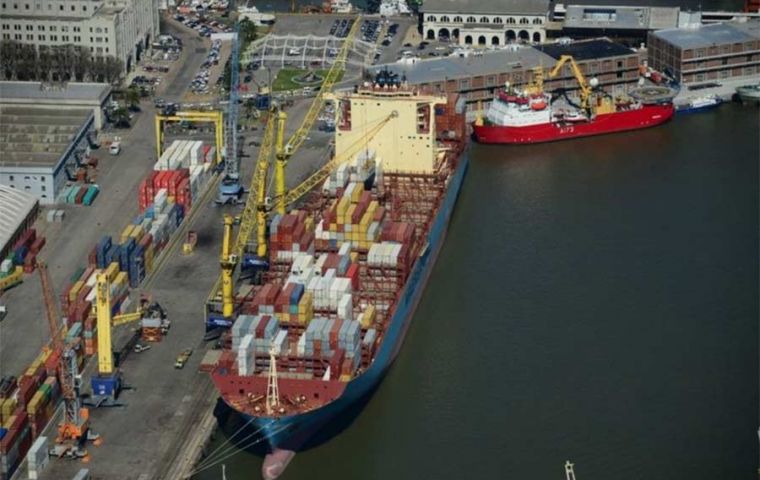 Uruguay's exports, including those shipped out of duty-free zones, totaled US$ 939 million in February of 2023, which represented an 8% decrease. The main reason for this setback was reported to be a drop in sales of beef and by-products, rice, wood, and wooden by-products.
Last year, Uruguay exported US$ 1.02 billion worth of goods, the Uruguay XXI Institute recalled. The drops in the amounts of certain products sold abroad were sizeable enough to neutralize significant increases in exports of cellulose and beverage concentrate, it was reported.
If free-trade zones are taken out of the equation, exports totaled US$794 million, 10% less than the US$885 million of the same month of the previous year, due mainly to a 21% inter annual drop in beef exports, according to the Uruguay XXI report.
During February 2023, beef exports registered a decrease compared to the same period of the previous year. The total value exported amounted to US$ 196 million, representing a 21% drop compared to February 2022, when US$ 247 million in beef was exported.
Despite this decline, beef still accounted for 21% of total exports in February 2023, compared to 30% for the same period last year. This was again due to the year-on-year fall in beef exports to China which fell by 36%: from US$ 147 million in February 2021 to US$ 94 million in February 2022.
Cellulose continued to experience a significant increase during February, reaching a total of US$ 173 million, which represented an increase of 38% compared to the same period last year, when US$ 125 million were exported. This product represented 15% of total exports in 2022 and this percentage increased to 18% in 2023.
Brazil was the main destination for Uruguayan products, with US$ 143 million worth of goods shipped in February 2023, a 25% yoy increase. The main products sold to the Mercosur neighbor were vehicles (US$ 25 million), dairy products (US$ 25 million), plastics (US$ 19 million), malt (US$ 14 million), and wheat (US$ 10 million).
On the other hand, exports to China continued to decline. The Asian country remained, however, the second most important destination for Uruguayan sales - US$ 138 million in February 2023, 38% less than in February 2022. The five most-exported products to the Asian country were beef (US$ 94 million), meat by-products (US$ 14 million), wood (US$ 8 million), sheep and goat meat (US$ 6 million), and dairy products (US$ 5 million). All these items recorded year-on-year declines of up to 56% in the case of dairy products.
The European Union ranked third, the United States fourth, and Argentina remained fifth place, although exports to that other Mercosur partner fell 26% inter-annually.