Record high temperatures recorded in Buenos Aires and other Argentine localities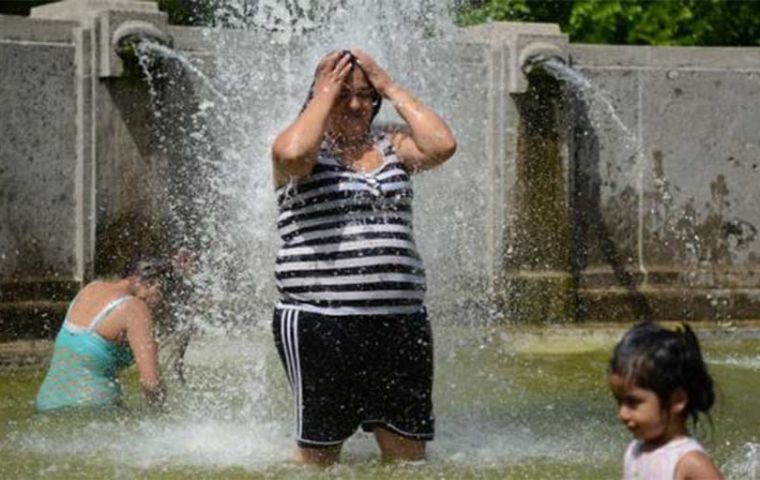 The Autonomous City of Buenos Aires (CABA) Thursday equaled its all-time high temperatures dating back to March 7, 1952, according to the National Meteorological Service (SMN), thus making the capital one of the hottest places nationwide with 37.9 °C. Despite falling to 35.4 °C at 4 pm, the wind chill hit 43°C, the SMN said.
Crossing the 34-degree threshold Thursday were the provinces of Buenos Aires, Córdoba, Entre Ríos, Santa Fe, San Juan, Catamarca, La Pampa, La Rioja, San Luis, and CABA.
The SMN also said Wednesday that Argentina was going through the hottest summer since 1961, with temperatures 1.3 degrees above yearly averages since records started being kept in 1906.
The intense heat wave is affecting most of the central and coastal areas of the country since Monday with a rise in temperature due to the continuous entry of a mass of warm air from the north by a high-pressure system over the Atlantic Ocean, it was explained. Hence, the ninth heat wave of the summer, according to the SMN.
For a heat wave to be declared, there must be at least three consecutive days with maximum and minimum temperatures above the threshold values for each locality. Thursday's temperatures fit the requirement and therefore heat waves were to be declared in various areas.
The SMN also recommended the population stays hydrated and avoids physical activity, in addition to wearing proper clothing. It also suggested people should avoid caffeinated, alcoholic, or sugary drinks, eat vegetables and fruits, avoid abundant meals, and pay attention to babies, children, and the elderly.