"We have earned international recognition," Lacalle tells MPs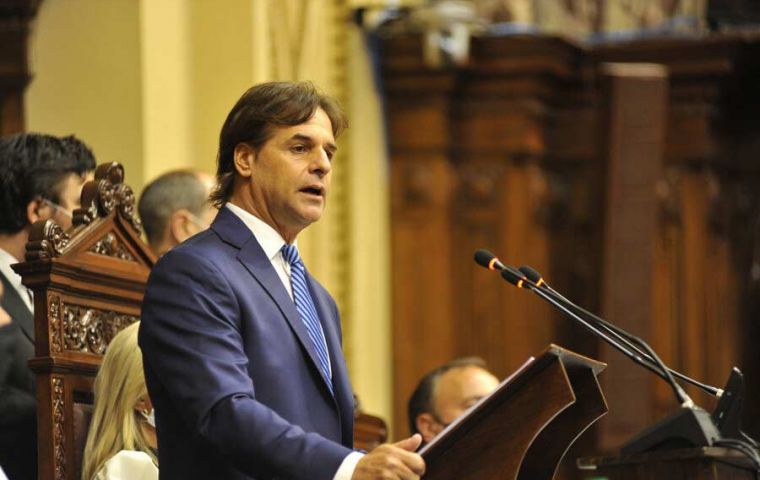 Uruguayan President Luis Lacalle Pou Thursday told his country's Legal Assembly that the economy was showing signs of recovery and that "we have earned international recognition, thanks to the performance of our finances." The head of state made those remarks while launching the new Legislature in Montevideo, which also marked the beginning of his fourth year at the helm of Torre Ejecutiva.
"We like to be accountable, we come to tell what we did and also what we plan to do", Lacalle Pou began before underlining that two of his three years in office were marked by the Covid-19 pandemic. "All Uruguayans, together with the government, were able to get through by using our freedom in a responsible manner," he underlined while denying the sanitary crisis was "an obstacle for the government to carry out the plan it had planned," so now that the pandemic is behind, Uruguay is currently "showing a recovery."
Lacalle underlined that 2022 closed with economic growth "above 5%," with record exports, and with "the lowest country risk in all South America," due to which "we have earned international recognition, thanks to the performance of our finances."
He also pointed out that in 2022 "there was a record number of people who ceased to be in the informal sector," while unemployment was "lower than in 2019." The Uruguayan President also stressed that last year was a record year in terms of "investment projects under the Comap [Commission for the Application of the Investment Law]". That said, he stated, "we have reason to believe in the opportunities ahead for our country."
Then Lacalle Pou reviewed the result of the referendum against 135 provisions of the Law of Urgent Consideration (LUC). He affirmed that as of today "more than two years and seven months have passed and, fortunately, the stories of the damages it would generate are far behind us" and underlined that the LUC "resulted in benefits for the people."
The LUC also allowed "the kick-off" for "two reforms that cannot be postponed", that is, the pension reform and the educational transformation, Lacalle also explained.
"In labor matters, almost three years after decreeing the health emergency, our country has recovered enormously," said Lacalle Pou, and reviewed that "the unemployment rate is lower than it was even before the pandemic, again, figures: in 2019 there were 158,294 unemployed and in 2022, 141,326, 17,0000 men and women who today are no longer unemployed."
He also argued that the number of workers in unemployment insurance decreased: "We had a huge increase in 2020 and 2021, the 2022 average was 46,000, while in 2021 it exceeded 61,000". He said the same when talking about the informality rate, which went from 25% in 2019 to 21% today.
Regarding the opposition Broad Front, Lacalle stressed that "it seems that we live in different countries," which he found "very annoying".