Argentine Customs create Uruguay River task force to tackle cocaine trafficking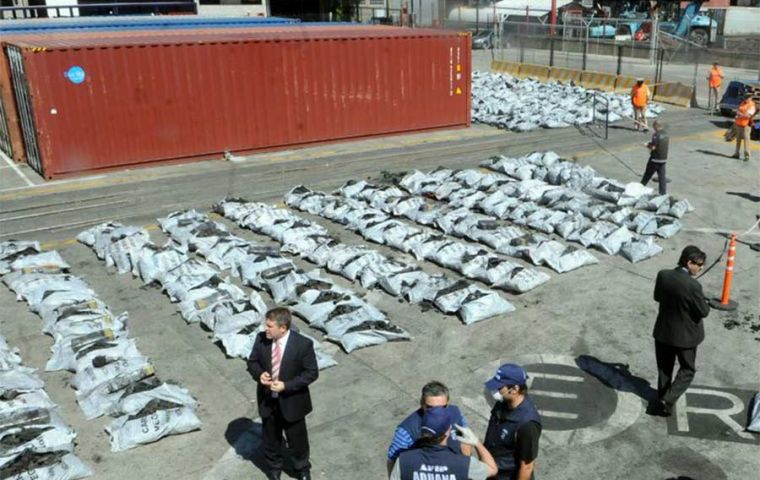 Argentina's Customs General Directorate created a department within its structure to monitor drug trafficking through the Uruguay River, it was announced Friday. The new task force will increase controls on regional transshipments where various containers featuring cocaine have been detected recently.
Customs Director Guillermo Michel held a meeting with Federal Judges Pablo Andrés Seró (Concepción del Uruguay); Federico Martín (Victoria), Hernán Viri (Gualeguaychú), Analía Ramponi (Concordia), who have jurisdiction concurrent with that of the new Uruguay Coast Drug Trafficking Sector (Waterway Region) office. Also present at the meeting was Gualeguaychú Federal Prosecutor Pedro Rebollo.
"We have created an area specifically dedicated to the surveillance of the Uruguay River coasts, with headquarters in Gualeguaychú, Concepción del Uruguay, Colón, and Concordia. This will mean greater presence, better intelligence, more dogs, and more technology to combat drug trafficking," Michel said while underlining the importance of joint work among state agencies. "We must work in coordination with the security forces, [and] the Judiciary, generating risk perception and reacting quickly to highly dynamic organizations," he added.
Customs intelligence has been trailing the transshipment of cocaine to larger ships headed for Europe and Africa. Argentine customs sources explained that drugs from Paraguay arrive in Uruguay through transshipment containers, light aircraft, and land cargo vehicles.
In recent months, cocaine has been found in lorries bound for Uruguay, the first such case dating back to Sept. 8 in Colón, when 31.36 kilos of cocaine were seized. All the other cases were found in Concordia, in the Argentine Province of Entre Ríos in increasing quantities: On Nov. 18, 56.6 kilograms; on Dec. 8, 77.65 kilos, and on Jan. 30, 89.15 kilos.
These maneuvers were believed to be linked to cocaine trafficking consolidating in the port of Montevideo, Argentine Customs also noted. Hence the importance of tackling smuggling through the Uruguay River with a focus on the Gualeguaychú-Fray Bentos, Colón-Paysandú, and Concordia-Salto on border crossings as well as at Ibicuy on the Paraná River and the export plants in that area to "encircle" illegal traders.