Lula tells Zelenski once again that Brazil wants to mediate with Russia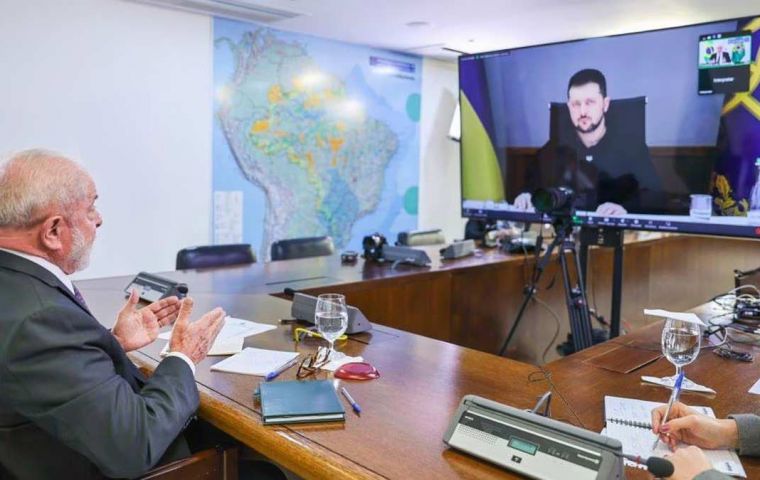 Brazilian President Luiz Inácio Lula Da Silva Friday told his Ukrainian colleague Volodymyr Zelenski once again through a video conference that the South American country was willing to broker a peaceful solution with Russia.
The call came a day after Brazil's Foreign Minister Mauro Vieira met with his Russian counterpart Sergei Lavrov on the sidelines of the G20 foreign ministers' meeting in New Delhi, India.
According to Brazilian press reports, Vieira underlined how the Ukraine crisis contributed to the current world food shortage, but repudiated the sanctions applied by the United States, the European Union, and its allies against Moscow.
Lula, who began his third term as President of Brazil in January, has declined requests to send ammunition to Ukraine and proposed instead the creation of a group of countries to seek a negotiated peace.
"I had a video meeting now with the president of Ukraine. I reaffirmed Brazil's desire to talk with other countries and participate in any initiative around peacebuilding and dialogue," Lula wrote on Twitter. "War can't interest anyone," he added.
The Brazilian leader had conveyed his idea to German Chancellor Olaf Scholz in Brasilia on Jan. 30 as well as to US President Joseph Biden, whom he visited at the White House in early February, as well as to French President Emmanuel Macron. Russian Deputy Foreign Minister Mikhail Galuzin said last week that Moscow was evaluating the proposal.
Lula caused a stir last year when he claimed that Zelenski was "as responsible" as Russian leader Vladimir Putin in the conflict. Last week, Zelenski said he wanted to talk to Lula to explain Ukraine's position to Latin America, because in his view, "there is no understanding" of Kyiv's position in these parts of the world.
Brazil voted with 141 other countries alongside the United States and Europe in the UN General Assembly on a resolution condemning Russia, but also calling for peace talks, together with regional partners such as Argentina and Mexico.