Mujica wants the region to stand together and break medical patents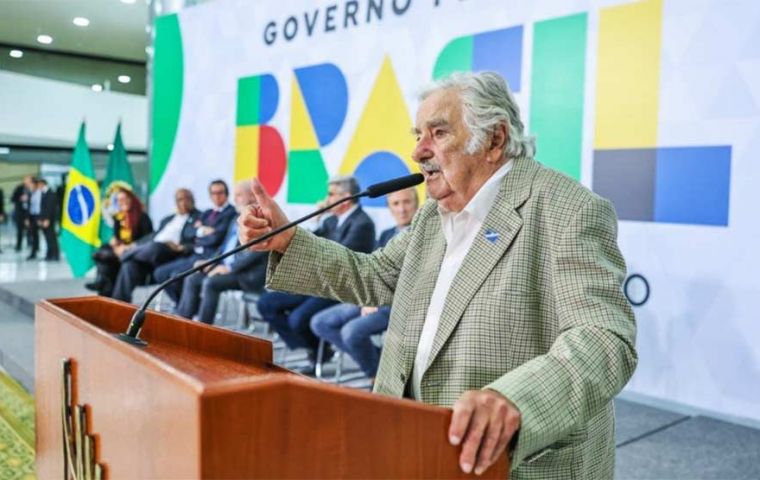 Former Uruguayan President José Pepe Mujica called all South American countries this week to stand together and break patents on vaccines and medicines. He made those remarks from the Planalto Palace in Brasilia, where he attended a gathering with President Luiz Inácio Lula Da Silva and other local authorities.
During his speech at the Trade Union Confederation of Workers of the Americas (TUCA) meeting, the Broad Front leader argued that South American countries should unite in order to break patents on vaccines and medicines of importance for the populations of the region.
According to Mujica, Covid-19 had a disproportionate percentage of victims among the population of the continent compared to other countries, which shows the need to equalize the conditions of access to vaccines and medication.
"We are 7% of the world's population and we had 30% of Covid victims. There was no meeting of [South American] presidents to break patents. We must never again make the mistake of not having the courage to unite to defend ourselves, together with Brazil, Colombia, Chile, right and left, defending South America. Nobody is going to give us the right to prosperity if we do not know how to fight together in the discourse we are living", Mujica stressed.
Mujica also highlighted that presidents of other countries in the world had said that they could support the breaking of patents on vaccines against Covid-19, but that later they had recanted. One of them was US President Joseph Biden, Mujica said. He also singled out authorities from China, Russia, and Europe, who had the knowledge but nevertheless preferred to multiply the production of vaccines according to the rules of the market.
Mujica also pointed out that pushing this demand separately would not help the region, and therefore joint action was necessary: Mujica was clear about "a continental agreement on what we should do."
"Brazil is big and strong, but it has no strength if we don't all unite. In this world, no one is going to give us prosperity. It is not about being right or left, it is about not being stupid", Mujica added.
"The petty bourgeoisie also loses, the Latin American big bourgeoisie also loses. Only by uniting can we begin to change the rules of the game," Mujica then sentenced.
"The idea is to present to all Latin American presidents this concrete proposal in writing, elaborated by representatives of all possible countries, and that they take what they want and put the rest aside or postpone it for when they want," Mujica also explained, because in his view Latin American countries standing together is "the only way there will be in the future to negotiate with the great global economic interests, something that the European Union has already installed and on which the African continent is beginning to work."