Scandal: Bolsonaro tried to smuggle Arabian jewels into Brazil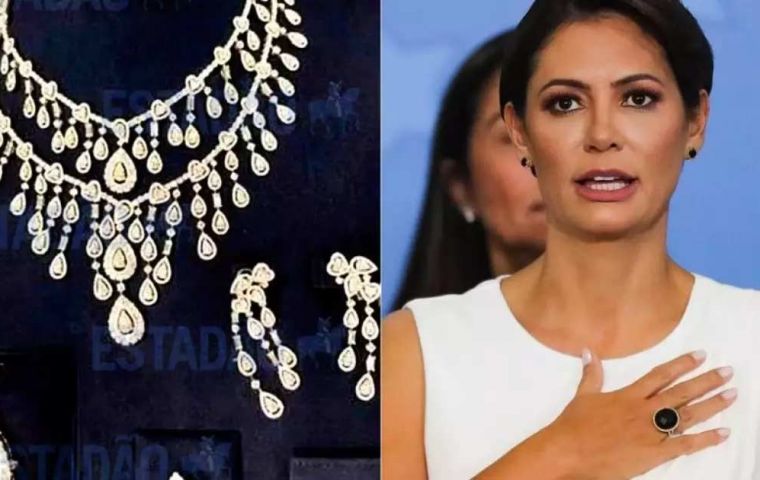 Former Brazilian President Jair Bolsonaro tried to smuggle into his country almost US$ 3 million worth of jewels, O Estado de Sao Paulo reported. The newspaper article also explained that "a necklace, a ring, a watch and a pair of diamond earrings," had been a gift Saudi Arabia gave then-First Lady Michelle Bolsonaro in Oct. 2021.
But the undeclared items were seized at Sao Paulo's Guarulhos international airport where customs agents found them in the backpack of one of the military personnel traveling back to Brazil. Former Minister of Mines and Energy Bento Albuquerque tried to recover the jewelry on numerous occasions but to no avail.
The Brazilian newspaper said that in the last two months of Bolsonaro's term, four attempts were made to recover the gifts mobilizing even the ministries of Foreign Affairs and Economy, all unsuccessful. The only way to recover the jewelry would be to pay the mandatory tax for their import, (50% of their value plus a 25% fine for not declaring them). The other alternative would be to declare them as an "official gift to the President of the Republic and the First Lady," in which case they would belong to the State of Brazil, not to the Bolsonaros.
"The report of ('O Estado de Sao Paulo') reveals shocking details about how the scheme of bribes, gifts, and illegal advantages of Bolsonaro, his family members, and close advisors worked. They all deserve to be investigated and punished for the crimes committed," current Presidential Communications Secretary Paulo Pimenta said. He also described Albuquerque's attempts to recover the jewelry as "shameful and showing the lack of ethics of those who held government positions."
"Bolsonaro tried to illegally bring [a] diamond necklace and earrings worth R$16.5 million to Michelle. The gifts were delivered in Saudi Arabia at the end of 2021. Petrobras had just sold a refinery for 1.8 billion dollars to a Saudi Arabian group," Pimenta said on Twitter, where he also posted photos of the diamond pieces.
Meanwhile, Luiz Inácio Lula da Silva's administration is considering options to force Bolsonaro back to the country if he does not voluntarily return by the end of March. The former head of state is vacationing in Florida since before the end of his term. He is also under investigation in several cases, including his alleged involvement in the Jan. 8 riots in Brasilia.