US Congresswoman warns Buenos Aires not to build Chinese fighter jets
Sunday, March 5th 2023 - 10:57 UTC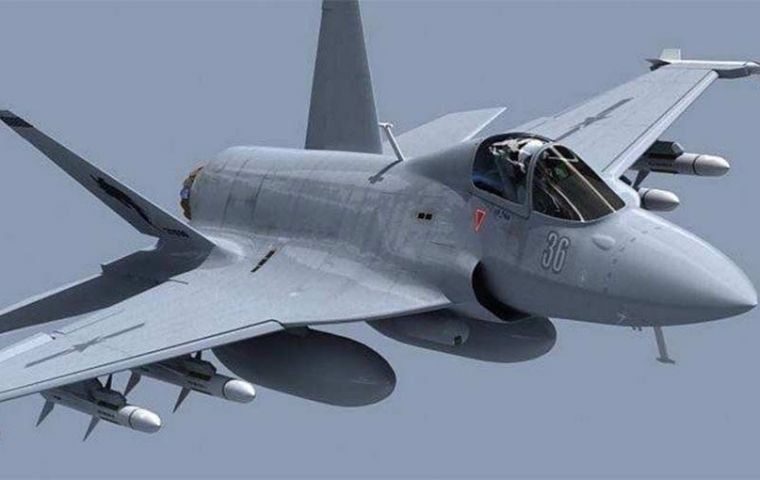 US Representative María Elvira Salazar warned last week that Argentina was planning to install a factory of Chinese warplanes in the South American country. The former Spanish-language news anchorwoman of Cuban heritage stressed that President Alberto Fernández and Vice President Cristina Fernández de Kirchner (CFK) had embarked on a deal with the Devil that they would regret sooner than later.
"I am going to forewarn them that if they decide to build a fighter jet factory of Chinese fighter jets, it's a very bad idea for them," Salazar said in English. But then she switched to Spanish to continue: "I'm going to say it in Spanish so that it is very clear to my Argentine friends: Your presidenta (female for president) and your president (male version) are making a deal with the Devil that may have consequences of Biblical proportions. The United States will not remain with its arms folded because you cannot have an ally who builds and exports Chinese military aircraft and sells them to its neighbors," the Republican Congresswoman from the State of Florida stressed.
(Watch: https://www.instagram.com/p/CpOOrlstAci/ )
Argentina already has a Chinese facility in the province of Neuquén claiming to be for peaceful scientific purposes but to which Argentine authorities have no access.
The South American country is also to decide on the purchase of new fighter jets, with the Chinese JF-17 and US-built F-16s currently owned by Denmark as the main options. In the meantime, home-built IA-63 Pampa trainer jets have been armed and are patrolling the South Atlantic. (Read also: https://en.mercopress.com/2023/02/09/malvinas-to-be-returned-to-argentina-soon-says-argentine-defense-minister ). Salazar claimed on her personal webpage that CFK was planning to purchase JF-17 aircraft and manufacture them in Argentina, which Casa Rosada has denied, saying that the only plant in the country building that type of aircraft was Fadea, maker of the Pampa.
"The only fighter aircraft factory in Argentina is Fadea, which depends on the Ministry of Defense and is 100% national industry. There is no project to build Chinese fighter jets in our country," Ministry sources quoted by TN argued.
In Salazar's view, building Chinese aircraft in Patagonia would be consistent with Xi Jinping's policies already implemented with Venezuela and Bolivia, with China's base in Neuquén providing some credibility to her allegations.
Salazar's remarks came the same week Argentina announced it was pulling out from the Foradori-Duncan treaty regarding sovereignty over the Falkland Islands and less than a month after Buenos Aires upped its military presence in the South Atlantic.