Former Ecuadorian President faces bribery charges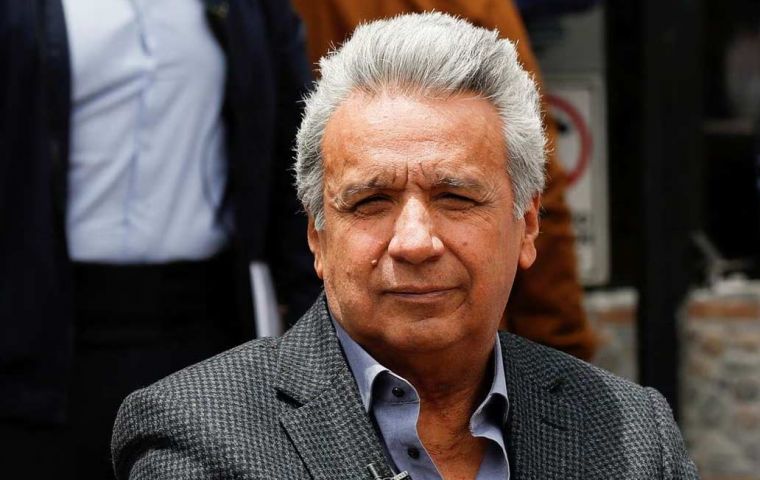 Former Ecuadorian President Lenín Moreno and 36 other people have been indicted Sunday in connection with a possible case of corruption involving the construction of a hydroelectric plant by the Chinese company Sinohydro at a cost of US$ 2.245bn. Moreno attended his arraignment audience virtually, it was reported.
Ecuador's Attorney General Diana Salazar requested Moreno's pre-trial detention last Friday during the arraignment hearing in the Sinohydro case after collecting evidence from Panama, Spain, and Switzerland through the International Criminal Assistance (API) mechanism. Salazar also charged 36 other people for their alleged participation in the crime of bribery.
The alleged corruption scheme under investigation since 2019 began with a complaint for the collection of US$ 8 million in bribes, but it was discovered that around the construction of the Coca Codo Sinclair hydroelectric project - in the province of Napo -, the company Sinohydro, which was awarded the contract, made payments amounting to around US$ 76 million through transfers, checks, and gifts in an irregular manner to have their bid approved.
Instead of granting the prosecution's request for Moreno's pre-trial detention, Judge Adrian Rojas ordered the former head of state to appear bimonthly before the National Court of Justice. Moreno currently resides in Paraguay, where he serves as Commissioner on disability issues for the Organization of American States (OAS). In addition to that, pre-trial detention is banned for people over 65 as per the Ecuadorian Constitution, which would include Moreno, his wife, and 12 other defendants.
Those living outside Ecuador must appear before Ecuadorian authorities every 15 days, but those still living in the South American country are to report every eight days.
The Prosecution also requested Judge Rojas froze the bank accounts of Moreno and all the other defendants. The former president is said to have deposits in Panama, Switzerland, Spain, Ecuador, and the United States.
The allegations against Lenín Moreno stemmed from an investigation known as "the offshore labyrinth of the presidential circle", disseminated in 2019 and directly involving the company INA Investment Corporation, which allegedly bears part of the name of the daughters of the former head of state. According to the documentation, INA Investment Corporation managed accounts in a Panamanian bank, from which furniture, carpets, and other objects were acquired for an apartment owned by Moreno in Geneva, Switzerland.
The corruption scheme is said to have taken place also while Moreno served as Vice President of Rafael Correa.
After Sunday's hearing, Moreno tweeted that some of the arguments put forward by the Attorney General's Office were "arbitrary and inhumane".