Chile: Constitutional reform Admissibility Committee picks its authorities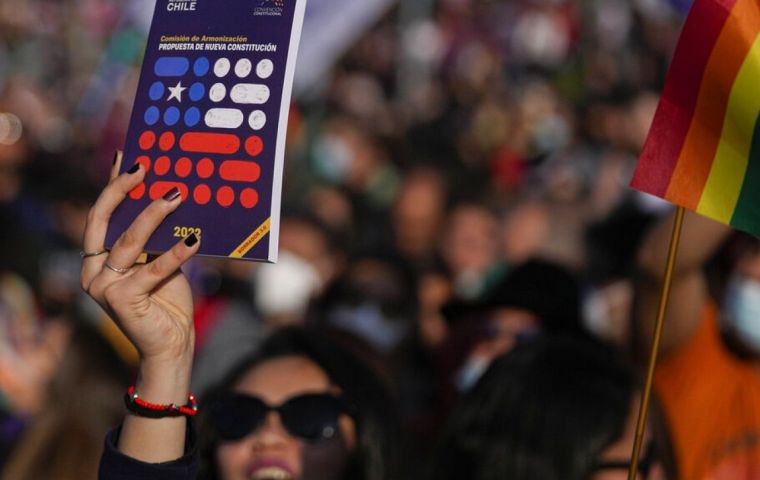 Chile's Admissibility Technical Committee for Constitutional reform started functioning Monday in Santiago by picking its authorities. The body is made up of 14 representatives from different political parties who were appointed on Jan. 25.
After Monday's meeting, the group will be chaired by Ana María García Barzelatto, with Claudio Grossman Guiloff as vice-chairman. The other members are Viviana Ponce de León Solís, Julia Urquieta Olivares, Marcos Contreras Enos, Estefanía Esparza Reyes, Juan Carlos Ferrada Bórquez, Tomás Jordán Díaz, Marisol Peña Torres, Víctor Manuel Avilés Hernández, Héctor Antonio Mery Romero, Cecilia Flores Eterovic, Josefina Soto Larreátegui, and Enrique García Arancibia.
While politicians were focused on these formalities, most Chileans could not care less. According to a survey by Pulso Ciudadano released last month, 57% of Chileans have little or no confidence in the constituent process.
The second part of Chile's constituent process began on March 6 through the appointment of a Committee of Experts (12 elected by the House Deputies and 12 by the Senate) who met for the first time last Friday and have three months to write the preliminary draft for a new Constitution for which a new Assembly is to be elected in May.
Pending the appointment of new authorities the group of Experts will be chaired by former Justice Minister Hernán Larraín, the most senior member of the team whose work will be carried out in connection with that of the Technical Admissibility Committee, a group of 14 law scholars mentioned above.
According to Pulso Ciudadano, 57 % of Chileans have no confidence in the constituent process, 2.3 points more than in January's measurement, while 16.7% have some degree of confidence, and 26.2% have just medium confidence.
People have other priorities than drafting a new Constitution, such as insecurity, illegal migration, and the economy, experts were quoted as saying by local media.
Once the preliminary draft is delivered, the professionals chosen by the parliamentarians, who have an academic profile and experience in state administration positions, will have the right to speak, but not to vote, it was explained.