Rice an exception in drought-hit Uruguay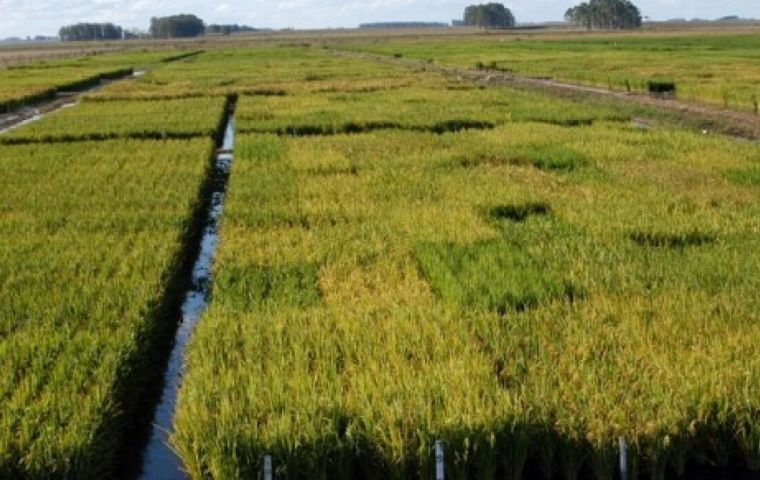 Uruguayan President Luis Lacalle Pou and Agriculture Minister Fernando Mattos spoke to reporters after attending the ceremony Monday marking the launch of the 2023 rice harvest, which will be one of the few items with something to celebrate in a country hit by drought.
"If agriculture does well, the country does well; that is the commitment," Lacalle explained. "If there is a group of people who are close to the rural areas, it is this government," he added from the department (province) of Rivera. Lacalle also highlighted the actions promoted by the Executive to improve infrastructure in the interior of the country and the work carried out to increase connectivity with Brazil.
Joining Lacalle were Vice President Beatriz Argimón; Presidential Secretary Álvaro Delgado and Ministers Mattos (Agriculture and Livestock), Javier García (Defense); Omar Paganini (Industry), and Pablo Mieres (Labor) in addition to local authorities and businessmen from the rice growing sector.
Lacalle also announced Monday that a delegation headed by the Ministers of Economy, Foreign Affairs, and Transportation will be traveling to Brazil shortly to further develop connectivity between both countries, particularly from the Rivera airport which is to be turned into a binational terminal, among other issues.
Mattos, meanwhile, appreciated that rice producers have made important efforts to produce in the 159,700 hectares planted, distributed in the departments of Artigas, Salto, Tacuarembó, Rivera, Cerro Largo, Treinta y Tres, Lavalleja, and Rocha. He also warned that 2% of the area was lost due to the lack of water.
The first yields exceed 9,000 kilos per hectare, for the third consecutive harvest, and production for the 2022-23 harvest will exceed 1,400,000 tons, similar to the previous one, Mattos said. He also recalled that the northern part of Uruguay is affected by the water deficit, although rice production is characterized by the fact that, as long as there is water for irrigation, the period of high temperature and luminosity is favorable.
Rice will be one of the few crops that will reap good results, a productivity improvement, and an increase in prices, mainly due to the demand from Brazil, Mattos mentioned. In addition, for rice by-products, there will be a good demand for cattle feed supplementation in winter.