Aerolíneas Argentines to resume Carrasco-Ezeiza route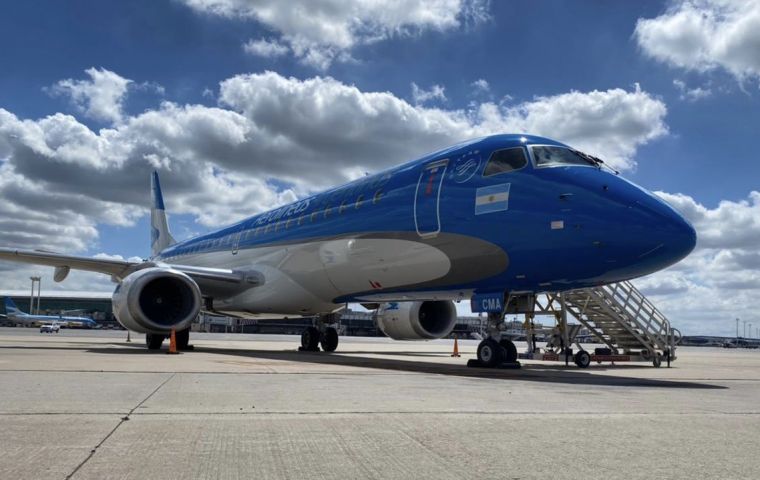 Aerolíneas Argentinas will resume its direct route between Buenos Aires' largest international air terminal (Ezeiza) and Montevideo's Carrasco, which will serve as a feeder for Uruguayan travelers to board transatlantic flights to Madrid or Rome or other domestic and regional services to destinations such as New York, Cancun, Punta Cana, or Havana.
The new service will depart from the Uruguayan capital Mondays, Wednesdays, and Sundays at 7.30 pm, while the return segment will leave from Ezeiza at 6.10 am.
Matías Carluccio, commercial manager of Aeropuertos Uruguay, stated that "the return of this route is a great opportunity because it increases Uruguay's connectivity, not only with Argentina but also with the rest of the world. We are committed to increasing our country's connectivity and we work every day to achieve it, that is why we celebrate this kind of news."
In a related development, Qatar Airways will be returning to Buenos Aires next month after the pandemic break, the Asian carrier announced during an international air travel convention in Berlin earlier this week.
Qatar Airways will be resuming flights to eleven destinations it used to serve before the Coovid-19 crisis: Buenos Aires, Beijing, Birmingham, Casablanca, Davao, Nice, Osaka, Phnom Penh, Ras Al Khaimah, and Tokyo Haneda, in addition to new flights: Trebisonda (Türkiye), Lyon and Toulouse (France), Kinshasa (Democratic Republic of Congo), Juba (South Sudan), Medan (Indonesia) and Chittagong (Bangladesh).
Qatar has already resumed flights between Doha and Sao Paulo/Guarulhos using Boeing 777-300ER aircraft with room for 354 passengers.