Argentina clinches CAF loan for gas pipeline development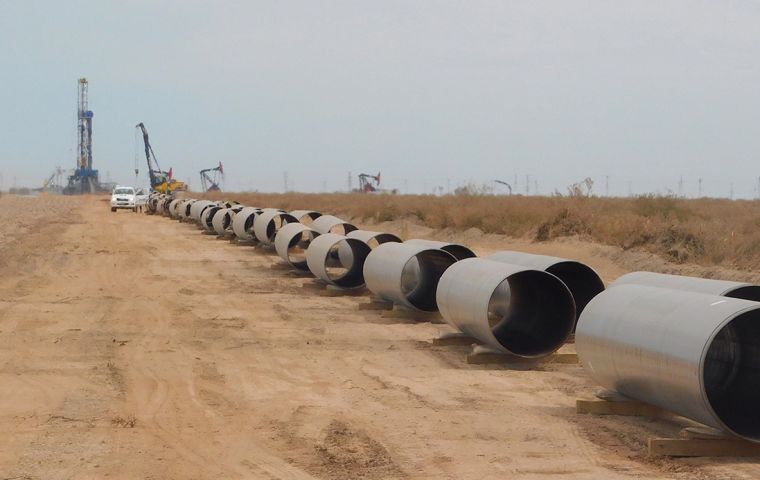 Argentina has secured a US$ 840 million loan from the Development Bank of Latin America (CAF), which will be largely allocated to the construction of the "President Néstor Kirchner" gas pipeline, it was announced Tuesday.
The agreement was reached during a meeting in Santiago, Chile, between Argentine Economy Minister Sergio Massa and the CAF board of directors including Chairman Sergio Díaz Granados.
Some US$540 million will be used for the project "Reversion of the Northern Gas Pipeline - Complementary works to the President Néstor Kirchner Gas Pipeline, which will bring gas to northern Argentina, guaranteeing the supply of gas to homes and industries," the Argentine authorities said in a statement. Another US$ 300 million will be used to finance a program for people with disabilities, to be disbursed immediately.
"Argentina is carrying out, within the framework of the development of a transition energy matrix, a very important work that allows us to take advantage of the second world reserve of shale gas as a resource, not only for the Argentines, but we aspire to transform it into an instrument to strengthen our energy matrix for Chile, Bolivia, Brazil, and Uruguay," Massa said.
These instruments "allow us to finance works such as these for 15 years allow Chile, Argentina, Bolivia, Brazil, and Uruguay to access one of the products, one of the world's largest gas reserves, to have economic transition energy for the development of our industries," he added.
The "President Néstor Kirchner" gas pipeline will help Argentina reverse the gas import flux it now purchases from Bolivia and become an exporter.
Meanwhile and despite the arrival of fresh foreign currency, Argentina's Central Bank (BCRA) sold reserves Tuesday to keep the exchange rate at bay at the cost of a US$ 129 million deficit so far this month and over US$ 1.18 billion in 2023.
The official exchange rate went up 23 cents and closed at AR$206.90 on average, while the unofficial blue dollar deepened its decline piercing the AR$370 threshold downwards. However, unnamed experts quoted by Buenos Aires media warned that "every day that passes, the blue is closer to climbing to AR$400."
A possible explanation behind the drop of the blue dollar was the announcement of the peso debt swap agreed upon by Massa and some financial entities.