Argentine federal gov't gets involved in Rosario violence crisis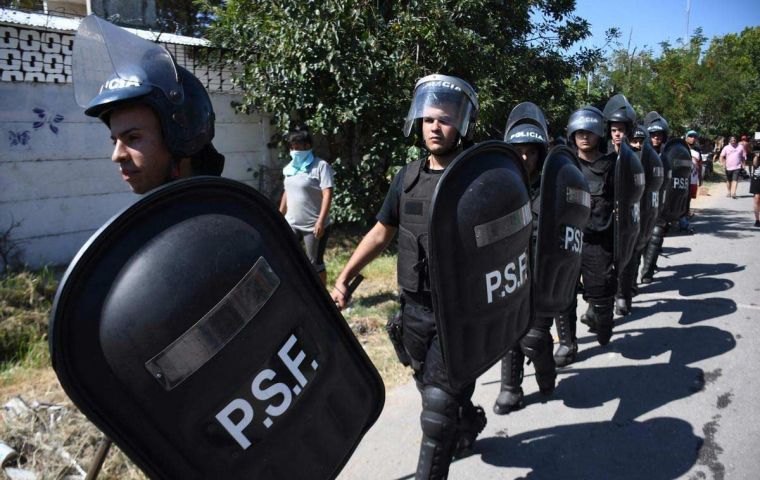 Argentine President Alberto Fernández Tuesday announced through a recorded message from the Olivos residence, that federal forces would be deployed to the Rosario area in an attempt to curb drug-trafficking-related violence. "Rosario needs us", said the President.
The head of state pledged federal forces reinforcements of "up to 1,400 available troops" while the Army's Engineers division would engage in the "urbanization" of local shanty towns.
"Organized crime does not develop overnight. It takes time to take over territories, recruit soldiers, and get the will of the security forces, the judiciary, the media, and also politics," said the President argued.
"Faced with this situation, I want to announce that I have taken a series of decisions with the main objective of dismantling these criminal organizations with the clear purpose of strengthening social coexistence and democratic security," said the President after a meeting with Santa Fe Governor Omar Perotti and Rosario Mayor Pablo Javkin. "Both offered me their views and expressed their needs to confront a problem that, I repeat, has developed over many years," the President went on.
Meanwhile, Security Minister Aníbal Fernández said that in the case of violence in Rosario "we have to go to the bone," while accusing opposition leaders of "political caranchismo" (feeding off carcasses).
Aníbal Fernández insisted there were "3,500 [federal] troops working every day and others in criminal intelligence which allows us to find solutions and warning elements that provide a solution to a problem that has [been going on for] many years."
Minister Fernández will be overseeing the federal deployment Wednesday, it was also reported. "If we do not get seriously involved as we have been doing since last year, it will never be solved because there is a lot of money to corrupt, many things to twist," he explained while recalling that since he took office in September of 2021, 575 federal troops had been sent to Rosario and help prosecutors "carry out more than 2,050 procedures with 2,050 detainees."