Argentine Women's Ministry an achievement of feminist struggles, Minister Mazzina says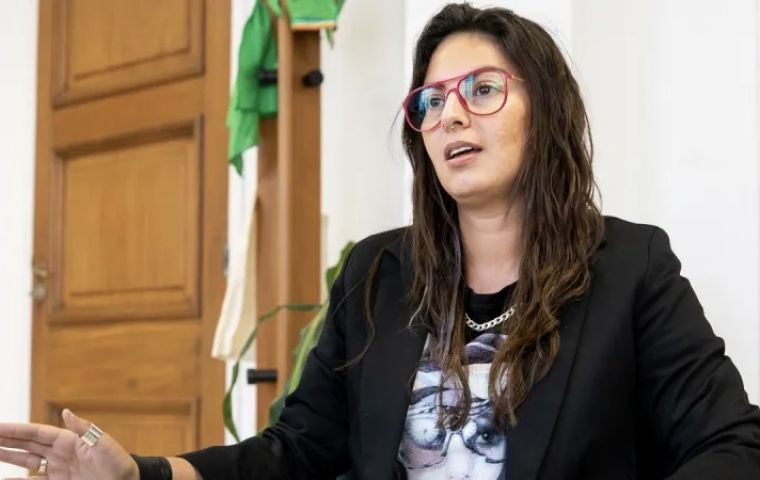 Argentina's Minister of Women Ayelén Mazzina Wednesday warned that the opposition has long called for the closing of her office but celebrated it did not go beyond words, claiming that the agency's existence was a victory "in the heat of feminist struggles."
Mazzina questioned Buenos Aires Mayor and presidential hopeful Horario Rodríguez Larreta's intention to "close" that agency if elected. "Larreta and that sector have been insisting for some time on the closure of the Ministry (of Women, Gender and Diversity). We have to understand the depth of where they want to go with this."
Larreta argued that the importance given to an issue does not depend on whether it has a ministry or a secretariat and insisted he would rather cut the number of ministries down to half as many as there are today. He stressed in a radio interview that, if elected, the Ministry of Women would be among those he would shut down, since in his view "the only thing that a ministry does is to create more bureaucracy."
There is no Women's Ministry in the City of Buenos Aires, where those issues are handled by the Women's General Direction, headed by Carolina Barone, who between 2016 and 2019 served as federal Director of Gender and Diversity Policies of the Ministry of Security, under then-Minister Patricia Bullrich and President Mauricio Macri. Bullrich is Larreta's main rival within the Together for Change (Juntos por el Cambio - JxC) coalition for the presidential primaries.
Larreta's stance against gender issues has also been highlighted in the City of Buenos Aires banning inclusive language in schools and also when someone like Cynthia Hotton, who is openly opposed to equal marriage and the Voluntary Interruption of Pregnancy, was added to the administration's team.
In this scenario, Mazzina stressed that since the first "Ni Una Menos" march in 2015, "society took to the streets to massively say 'enough' of violence against women and claim to the State public policies with budgetary [allocations] to prevent and eradicate violence."
Former Vice-Presidential candidate Miguel Ángel Pichetto said last month that instead of Mazzina, a confessed lesbian, they should put a woman in front of the Women's Ministry to add to the controversy, while Libertarian Deputy Javier Milei has also promised in May 2022 that he would eliminate the Ministry if he is elected, because "I am not going to apologize for having a penis," while stressing he had "no reason to feel ashamed of being a white, blond and light blue-eyed man."
"I will not concede anything to cultural Marxism," Milei had said.
Mazzina also highlighted the "political will" of this government that "multiplied threefold the budget managed by the Women's Institute of the previous administration", which was recognized "by a lot of countries and international organizations."
"For a real way out of violence, we need girls to be able to become economically independent and have a real inclusion," Mazzina also argued.