Chile shows negative inflation in February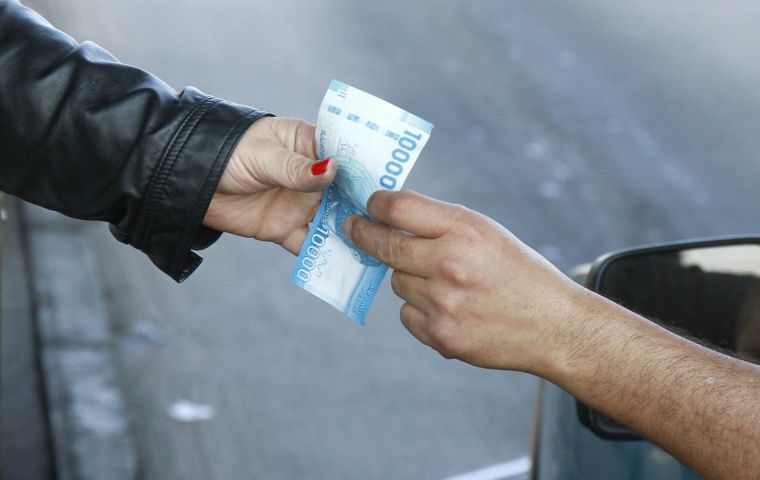 Chile recorded a 0.1% decrease in its Consumer Price Index (CPI) for the month of February of 2023 for an interannual 11.9% increase, the National Statistics Institute (INE) reported in Santiago Wednesday. It was the first negative monthly variation since November 2020.
Despite February's encouraging figures, the administration of President Gabriel Boric Font is way past the Central Bank's 3% target, which would equal 2020's achievements.
Chilean inflation had been boosted by massive pension fund withdrawals during the Covid-19 pandemic.
"Three of the twelve divisions that make up the CPI basket contributed negative incidences in the monthly variation of the index, seven had a positive incidence and two noted null incidence," INE explained INE through a statement.
Among the sectors with decreases in prices were: transport (-2.7%), food and non-alcoholic beverages (-0.3%), and recreation and culture (-1.0%), while increases were recorded in clothing and footwear (3.9%) among other items.
Chile's yoy inflation by January reached 12.3%, the highest level in 31 years.
Wednesday's figures meant an improvement from most projections that spoke of an increase between 0.2 and 0.3%, according to a Bloomberg survey.
Chile's central bank is keeping its benchmark interest rate at the highest level in more than two decades. It is getting some help on inflation from an appreciating peso, which makes imports less expensive. Still, central bank president Rosanna Costa said this week that recent data showed the economy was taking longer to cool down.
The South American nation was also hit last year by higher fuel costs at the onset of the Russian invasion of Ukraine.