Firefighter, assailant killed in robbery attempt at Santiago's airport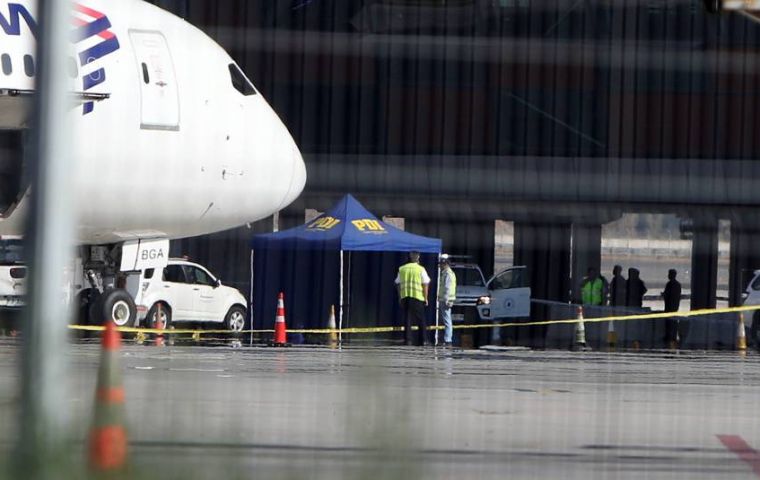 Two people were killed at Santiago de Chile's Arturo Merino Benítez International Airport Wednesday when a commando-style group tried to rob an armored vehicle carrying over US$ 32 million straight from the tarmac.
Some 12 assailants engaged in a gunfight with police around 8 am local time after arriving in three vans at the W sector of the terminal seeking to seize the cargo that had arrived on a LATAM Airlines flight from Miami and was going to be loaded into an armored vehicle.
Airport security staff noticed some irregularities in the group's movement which reportedly included fake credentials to gain access to restricted areas, after which a shootout ensued. Video footage of the fight was recorded by travelers flying on other aircraft parked nearby and uploaded on social media.
Fallen in the action was airport firefighter Claudio Villar Rodríguez and as well as one of the assailants, while his accomplices managed to escape. Authorities also said the money had not been stolen.
Undersecretary of the Interior Manuel Monsalve told reporters that two suspects had been identified, while Brink's, the company owning the armored truck, said in a statement that all security protocols had been followed and that none of its staffers had been harmed.
The episode interrupted President Gabriel Boric Font's participation in a Women's Day event at the La Moneda Palace. "I want to express my solidarity and send a big hug to the family of the DGAC officer (Villar Rodríguez). We know that security is a priority for Chilean men and women, and when there is insecurity everything else falters," said the head of state.
"This assault was thwarted, but at a very high cost, the cost of human life," he went on while vowing to chase those responsible to the fullest extent of the law.
Villar Rodríguez was 45 years old and had been a firefighter for over two decades when he was caught up in the middle of the shootout. He was enlisted in Aviation Security (AVSEC), a division of the Civilian Aviation Directorate (DGAC) dedicated to combating aviation crimes. "This morning, as an AVSEC security officer in the DGAC, he was killed by criminals at the Arturo Merino Benitez airport while on duty," an official statement read.