Uruguay going through largest cruise season ever and wants more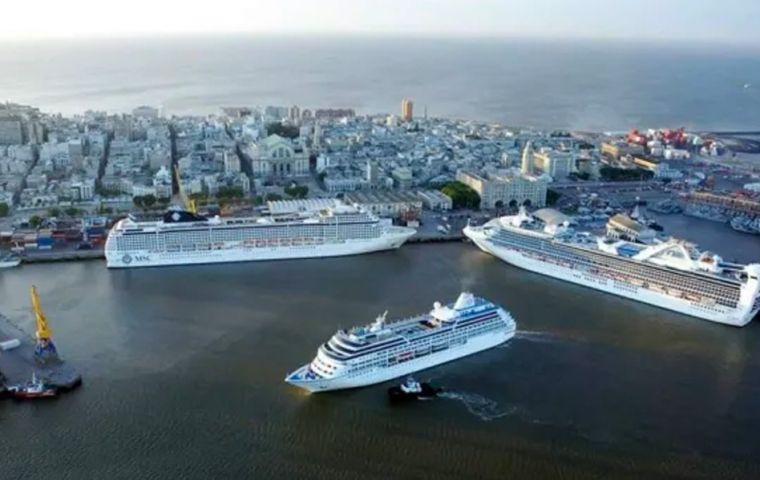 Uruguay's Deputy Tourism Minister Remo Monzeglio said this week that the South American country was going through the most active cruise season in the past 8 years, with 160 ships arrived so far (116 in Montevideo, 44 in Punta del Este and 44 others yet to reach its shores.
Monzeglio told EFE he was "pleasantly surprised" with these figures because, with the pandemic, cruise tourism was one of the sectors that suffered the most and experts had foreseen it would take longer to recover.
"As soon as the activity was reactivated, the sector made an effort to recover its tourists and, in turn, there was a great response on the part of the cruisers to return to travel again," Monzeglio explained.
One of the keys to this record in the last eight years was the arrival of the MSC Seaview, which, at 323 meters long, 22 stories in height, and with a capacity for more than 5,000 passengers, became the largest cruise ship ever to dock in Montevideo.
Beyond the usual Argentine and Brazilian visitors, the ministry detected an increase in travelers from Mexico, the United States, and Europe, it was also reported.
"The arrivals from outside the region make us happy because the cruise passengers are the ambassadors of the country, they are our disseminators through the photographs and videos they share," Monzeglio also pointed out.
The Uruguayan official is to participate between March 27 and 30 at the Seatrade Cruise Global international fair in the US State of Florida. "We are going there with three objectives: to consolidate the numbers of this season, to expand them, and to incorporate a third cruise destination in Uruguay, which will be in the department of Colonia de Sacramento," Monzeglio said.
By December 2023, a test will be carried out by bringing a cruise ship to Colonia and there will be a "big party" to inaugurate Colonia del Sacramento as a new destination for cruise ships.