FMs of Brazil, Paraguay highlight mutual progress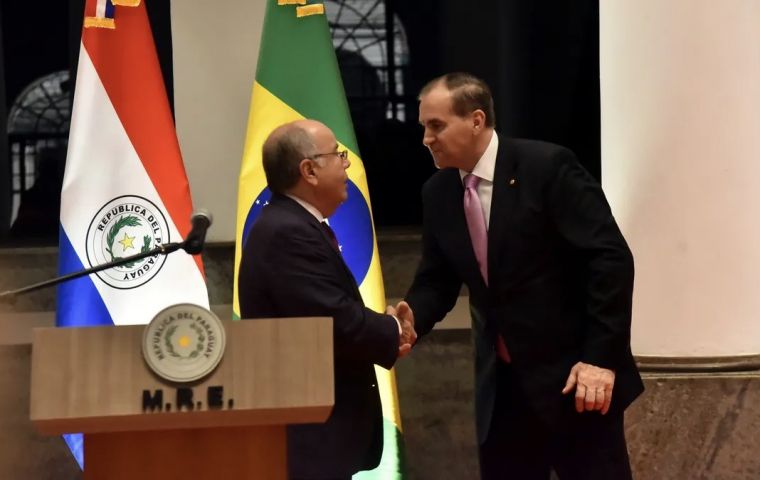 Foreign Ministers Mauro Vieira and Julio Cesar Arriola Thursday underlined in a joint statement how bilateral trade and cooperation in security areas between Brazil and Paraguay was progressing. The document was released Thursday during Vieira's first official visit to Asunción, where he also met with President Mario Abdo Benítez.
Both top diplomats agreed on the importance of bilateral trade and how Brazil was the main destination for Paraguayan exports. They also highlighted cooperation in different areas of security and the fight against transnational crime, as well as technical and humanitarian matters, development cooperation, and the joint execution of infrastructure works on the common borders.
Arriola stated in a press conference that the visit of his Brazilian counterpart is an unequivocal sign of the excellent relations between their countries, which are developed within a framework of respect, openness, and cooperation.
Vieira and Arriola also reviewed Annex C of the Itaipu Treaty and the electricity fares and discussed the Bioceanic Road Corridor, including a possible summit between Abdo and Luiz Inácio Lula Da Silva to oversee the works.
"We are sure that, with this first meeting, we will strengthen a new stage of friendship, cooperation, integration, and Paraguayan-Brazilian complementarity for the benefit of both peoples", highlighted Arriola.
Vieira said that his country's relationship with the region has returned to the center of its foreign policy, for which they view with expectation Brazil's return to the Community of Latin American and Caribbean States (Celac), as well as a timely resumption of the Union of South American Nations (Unasur) to contribute to the efforts of greater regional integration.
Regarding Mercosur, the Brazilian Minister highlighted the bilateral support for the strengthening of the bloc that his country will preside over in the second half of the year and the ratification by both countries of the respect for the founding texts, as well as the joint progress in the prompt ratification of the agreement with the European Union.
(Source: Xinhua)