Australia to purchase US nuclear submarines as AUKUS grows stronger
Tuesday, March 14th 2023 - 09:43 UTC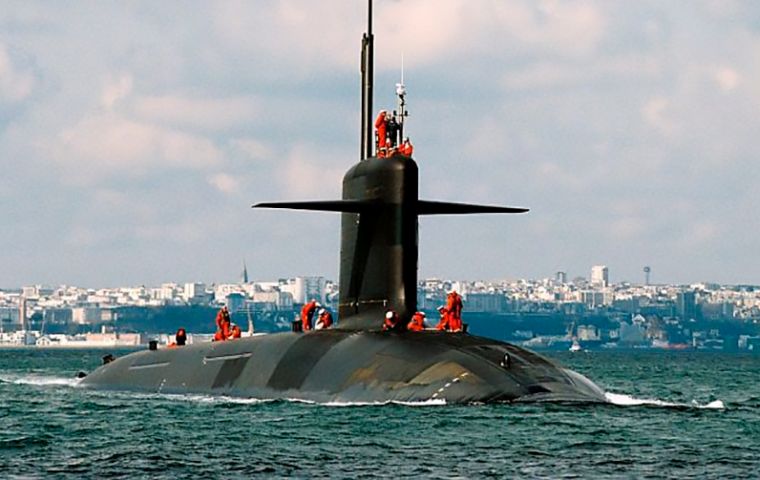 Prime Ministers Anthony Albanese of Australia and Rishi Sunak of the United Kingdom joined US President Joseph Biden Monday at a San Diego naval base to discuss the terms under which the South Pacific Island will purchase nuclear-powered submarines as part of the AUKUS defense strategy to neutralize China's expansion in the region.
Under the AUKUS agreement, which is aimed at preserving a "free and open" Indo-Pacific, Australia will buy three American nuclear submarines, and will also have the option to purchase two more, it was explained in a joint statement from California.
"An inflection point in history, where the hard work of enhancing deterrence and promoting stability is going to affect the prospect of peace for decades to come," Biden said. Biden stressed that the submarines will be nuclear powered but "will not have nuclear weapons".
It was "the first time in 65 years and only the second time in history that the United States has shared its nuclear propulsion technology, and we thank you for it," Albanese stressed. He also spoke of the "largest single investment in Australia's defense capability in our entire history." He said the project would support the Australian economy for "decades" and create "some 20,000 direct jobs."
Meanwhile, Sunak cited growing challenges "including Russia's illegal invasion of Ukraine, China's growing assertiveness, and the destabilizing behavior of Iran and North Korea".
"Faced with this new reality, it is more important than ever, that we strengthen the resilience of our own countries," Sunak said.
Australia and Britain will start building a new submarine model with US technology and support, with the UK expected to deliver its first home-built nuclear submarine by the late 2030s. Australia is set to deliver those new vessels to its navy by the early 2040s. Initially, Australia will buy submarines from the US, but in the long run, the three countries plan to jointly develop a submarine model that will eventually be built in Australia itself.
China has argued AUKUS risks setting off an arms race and violates the Nuclear Non-Proliferation Treaty. Beijing has said the transfer of nuclear weapons materials from a nuclear weapons state to a non-nuclear-weapon state is a "blatant" violation of the spirit of the treaty. Beijing has also repeatedly accused the AUKUS trio of adopting a "Cold War mentality" that risks a greater escalation in the region. "We urge the US, the UK, and Australia to abandon the Cold War mentality and zero-sum games, honor international obligations in good faith, and do more things that are conducive to regional peace and stability," Chinese Ministry of Foreign Affairs spokeswoman Mao Ning told reporters.
Security experts see the AUKUS alliance and its large-scale project primarily as an attempt to counter China's increasing ambition for power in the Indo-Pacific - even though the three countries assure that their alliance is not intended to send a signal to any single country.
Starting in 2027, the US and UK plan to station submarines in Australia on a rotating basis. Australia is then to build its own fleet of nuclear submarines in the 2030s.