Little has changed since the referendum, MLA Pollard tells Clarín
Tuesday, March 14th 2023 - 10:25 UTC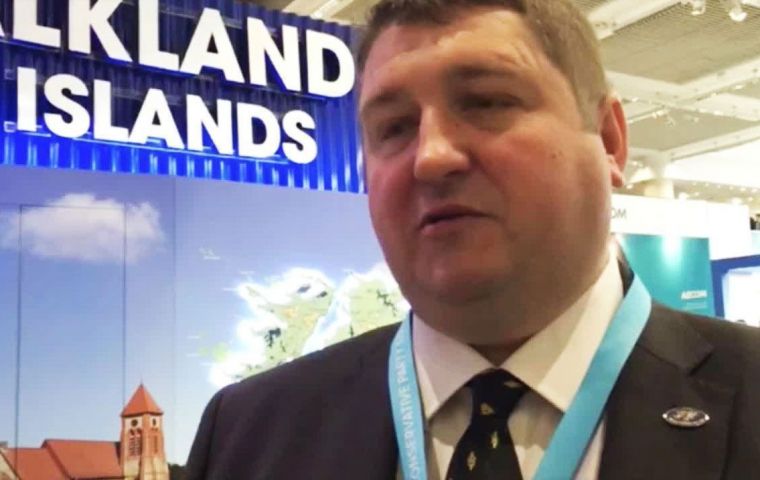 Marking the 10th anniversary of the Falklands Islands referendum regarding self-determination, MLA Mark Pollard was interviewed by Buenos Aires' Clarín to discuss that consultation and other topics regarding current events involving the South Atlantic overseas territories.
"Politically, in the Falkland Islands I think little has changed," Pollard told Clarín's Natasha Niebieskikwiat. "We are still on the trajectory we were on. We are a multicultural and open community. I think the results of the referendum would probably be very similar if we had it now as well. Politically the referendum is very valid, I don't think it could be much different today than it would have been 10 years ago," he added.
Regarding Argentina's announcement that it would quit the Foradori-Duncan Treaty, Pollard underlined the Islanders were a third party to the issue and that "it is a matter for Argentina and the United Kingdom to deal with" because "in terms of the Falkland Islands, the UK does not interfere in our decisions, so I would encourage them to have the best possible relationship."
Regarding self-determination, Pollard explained that "if we didn't want to be British anymore, they [the UK] have told us that they would support us in that transition. But the referendum has already made it clear how the people of the Falkland Islands feel. That has not changed. We are not going to change. It is a position reaffirmed by different parties in the United Kingdom that there will be no change in status. We are a British territory and we want to be. The fact that Argentina does not agree and does not believe that is the case is a matter for them. If I were the Argentine government I would focus on improving things for Argentines. I think we are being used as a distraction. If the Argentines had the Falklands, what would they do with them? The people of the Islands must decide their future."
"I'm sixth generation [Falklander], my children are seventh generation. How long do people have to live in a place to decide their own future? My people have been in the Falkland Islands forever, in my consideration," Pollard also argued.
Asked about the Islands' future without the LATAM flight from Sao Paulo making a stopover in Cordoba, which is no longer authorized by Argentina since the recent announcements made by Foreign Minister Santiago Cafiero to his British colleague James Cleverly, Pollard replied that "we will look for alternatives, as we have always done."
"We are used to Argentina blocking things, the interference of not giving air permits, I think it is against international law, it is a strange decision, it cuts us off from South America. The strangest and saddest thing is that it cuts us off from Argentina. If I were an Argentine and I looked at the situation, I would think that they have cut Argentina's second-largest city from the Falkland Islands. I don't understand why they would do that, but it's not for me to understand but to try to find solutions for the connectivity of the Falkland Islands. We still have the flight from Santiago, but we will look for alternatives," he added.
Pollard insisted "we have not canceled" the Brazil flight. "If Argentina changes its mind and wants to be more mature and decides not to block our connectivity, then we can reinstate it. We will not put any more effort there."
However, "we do not want any Argentine airline with a stopover in Argentina. We grant a stopover in Argentina once a month. The last thing we want is for our connectivity to be controlled by Argentina," Pollard explained. "We will not be bullied into accepting things we do not want." (Source: Clarín)