Uruguay to up border controls in fight against drug trafficking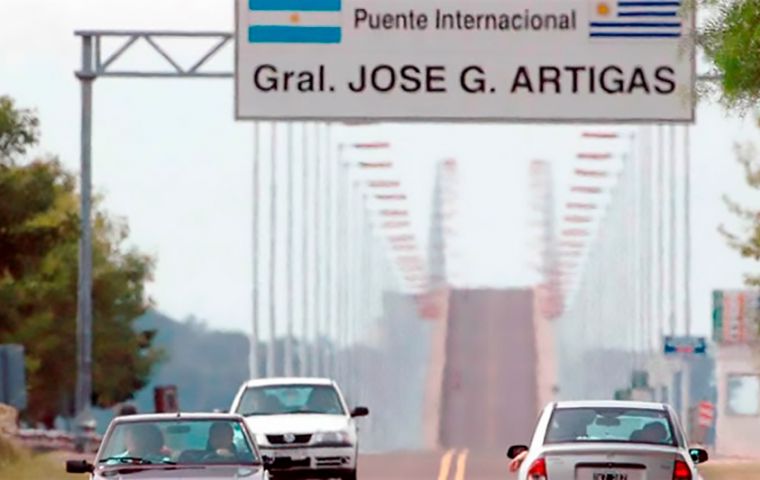 Uruguayan Customs authorities are to deploy three new state-of-the-art scanners for border control, Economy and Finance Minister Azucena Arbeleche announced Monday during the opening of the VIII Regional Meeting of the Global Container Program for Latin America and the Caribbean. The plan is an initiative of the United Nations Office on Drugs and Crime and the World Customs Organization.
Also participating in the event were Deputy Foreign Secretary Nicolás Albertoni, Vice-President of the National Ports Administration Daniel Loureiro, and National Customs Director, Jaime Borgiani, in addition to Ambassadors Heide B. Fulton (United States), Isabelle Valois (Canada), as well as the United Nations Resident Coordinator in Uruguay, Pablo Ruiz Hiedra.
Minister Arbeleche insisted the current administration was is committed to a head-on fight against drug trafficking. "Controls at ports and border crossings are fundamental," she said. To that end, it is a priority to have non-intrusive instruments to verify the merchandise entering, transiting, and leaving the country.
Arbeleche also explained that changes were implemented through the National Customs Directorate in control policies, which have greatly improved the efficiency of seizures. The Minister also pointed out that since March 2020, more than 5,000 kilograms of banned substances and narcotics have been seized.
The Economist also thanked the United States and Canada for their support for Uruguay to enter into the list of countries with implemented offices of the Container Control Program. Arbeleche also explained the UN had chosen Uruguay as the venue for the regional meeting based on last year's results.
Borgiani, meanwhile, said that the new scanners will it make it possible to analyze up to 70% of the cargo while at present, only 6% is scanned. The new devices will be operational as of 2024. He also said that one of the brand-new instruments is portable, which will make it possible to control busy border areas, such as the ports of Nueva Palmira and Fray Bentos.
Regarding seizures, Borgiani stated that most of them were in containers in transit and that Uruguayan exports have not been affected.
The National Customs Directorate is also to hire some 130 new officers to join some 500 officers currently in activity.