Lula insists on demarcating indigenous lands in Amazon rainforest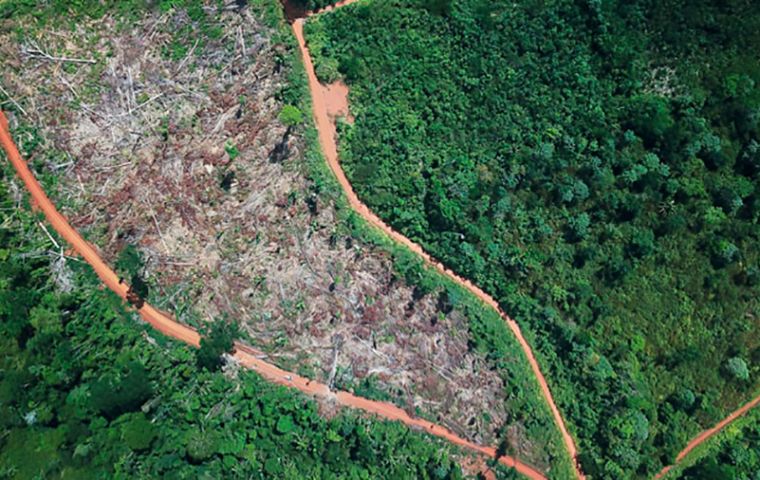 President Luiz Inácio Lula Da Silva Tuesday pledged to expand the indigenous territories in northeast Brazil in a move to expel organized crime groups extracting natural resources from those areas.
"When they say that the indigenous people are occupying 14% of the national territory, they should remember that they have had 100% of the national territory; it is the others who occupy 86%," Lula recalled while insisting that the expansion of indigenous territories was a necessity to preserve the Amazon.
Lula made those remarks at the 52nd Assembly of Indigenous Peoples of Roraima. It was the first time a president has participated in the indigenous assembly where nine ethnic groups convene.
The Workers' Party leader also stressed the importance of demarcating the indigenous territory to prevent the arrival of mafias dedicated to the illegal exploitation of timber and mining resources, as well as agricultural and livestock activities.
Speaking next to Minister of Indigenous Peoples Sonia Guajajara from the Terra do Sol Indigenous Land, in the north of the country, Lula defended the demarcation of indigenous territories, which had been dropped by the Jair Bolsonaro administration) and the increase of state presence in education, health, and economic assistance to indigenous communities.
"I asked my ministers to show me all the lands that are ready to be defined because we need to do the demarcation fast, before they seize them, before someone invents false documents, false deeds and say they own the land," Lula said from Raposa Terra do Sol, an indigenous territory that was demarcated during his first presidency, which resulted in the expelling of illegal rice farmers who had settled in the area.
Last January, Lula visited the Yanomami Indigenous Reserve, where he accused Bolsonaro of genocide against the Yanomami indigenous people.
Lula also warned that illegal mining is completely forbidden and will be fought by his government. "If there is gold in Roraima, in the indigenous land, that gold does not belong to anyone, it is there because nature put it there and no one has the right to take it out without the authorization of the indigenous people of Brazil," Lula said.