Chancellor Hunt, "British ale may be warm, but the duty on a pint is frozen"
Thursday, March 16th 2023 - 07:35 UTC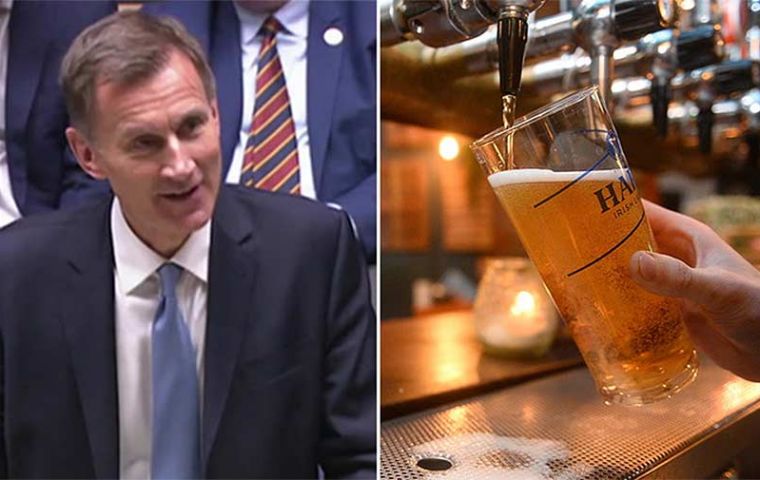 The price of a packet of cigarettes rose hours after the UK Budget was delivered in Parliament, while drinkers will see tax on alcohol go up by 10.1% in August, in line with inflation. According to London media, the only alcohol not to see a rise was draught beer where duty will be frozen. Chancellor Jeremy Hunt said this was to help "the great British pub".
The change to tobacco products came into effect at 18:00 GMT on Wednesday and sees the cost of an average pack of 20 cigarettes increase to £14.39.
In the Budget, the chancellor revealed the duty rates on all tobacco products would increase by the Retail Price Index of 10,1% plus 2%.. This means an increase of about 12%.
The RPI is a measure of inflation which came down to 10,1% in January.
According to the UK Office for National Statistics, the average price for a packet of 20 cigarettes in January 2023 was £ 12.84. The increase in duty rates announced in the Budget means an average packet of 20 cigarettes would increase to £14.39 at 18:00 GMT on Wednesday.
The rate on all hand-rolling tobacco products will increase by RPI, plus 6% and the minimum excise tax will increase by RPI plus 3%.
This is the first rise in tobacco duty since October 2021.
As part of a bid to help people with the rising cost of living, Mr Hunt announced a freeze on the duty tax for draught pints to help "the great British pub".
The new rule, which will also apply to Northern Ireland, will see alcohol duty 11p lower on pulled pints compared to supermarket sales from 1 August.
In the Commons, Mr Hunt said: "Madam Deputy Speaker, British ale may be warm, but the duty on a pint is frozen."
However, drinkers will see tax on other alcohol soar by 10.1% in August in line with inflation when a new system is introduced.
In December, the government extended a freeze on alcohol duty for six months, but this will end in August.
Scotland's whisky industry has accused the chancellor of delivering an "historic blow". The Scottish Whisky Association (SWA) said the 10.1% increase was the "the wrong decision at the wrong time".