Queen's Brian May knighted by King Charles III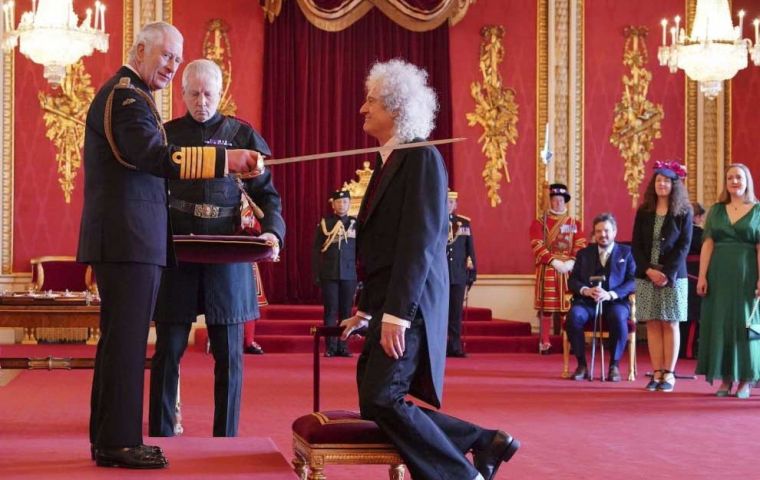 Brian Harold May, guitarist of the legendary band Queen and holder of a PhD, said he was "thrilled" after being made Knight of the Most Excellent Order of the British Empire by King Charles III.
After the brief ceremony, May, who is also involved in wildlife preservation charities, said he felt a renewed responsibility to "behave in a way that benefits the United Kingdom and the rest of the population."
The 75-year-old guitarist achieved significant fame during Queen's heyday in the 1980s, alongside the late Freddie Mercury, Roger Taylor, "Freddy would have loved it," May also said.
Sir Brian described the ceremony as a "lovely moment," saying that receiving the honor was a "very good feeling." He also admitted that he and King Charles, who is a year his junior at 74, joked about their age: "He was wondering if my knees were holding out for the kneeling part of the ceremony. I said: 'Yes, just about'."
In 2005, May received the title of Commander of the Order of the British Empire. In 2002 he played a guitar rendition of the British national anthem, 'God Save the Queen,' from the royal residence's roof for Elizabeth II's Golden Jubilee. He also performed at the late monarch's Platinum Jubilee 20 years later.
May is also an animal rights activist, serving as Vice President of the Royal Society for the Prevention of Cruelty to Animals since 2012, and has led campaigns against fox hunting and badger culling in the UK.
Queen's lead singer, Freddie Mercury, died in 1991, but May and Taylor have kept the group going to this day. On the band's future, May told journalists: "We're thinking about touring, I can say that… I'm hoping I stay in good health – at the moment I seem to be in pretty good health, which is always great."
May suffered a minor heart attack in 2020 and tested positive for Covid-19 a year later, but has kept up his live performances, most recently with the Rhapsody Tour in 2019-2022. Queen was founded in 1970 by May, along with frontman Freddie Mercury and drummer Roger Taylor. The group released 15 albums.
See also: https:
Queen's Brian May among the first to be knighted by Charles III as king