Argentina, SAAB sign military radar technology deal
Friday, March 17th 2023 - 07:37 UTC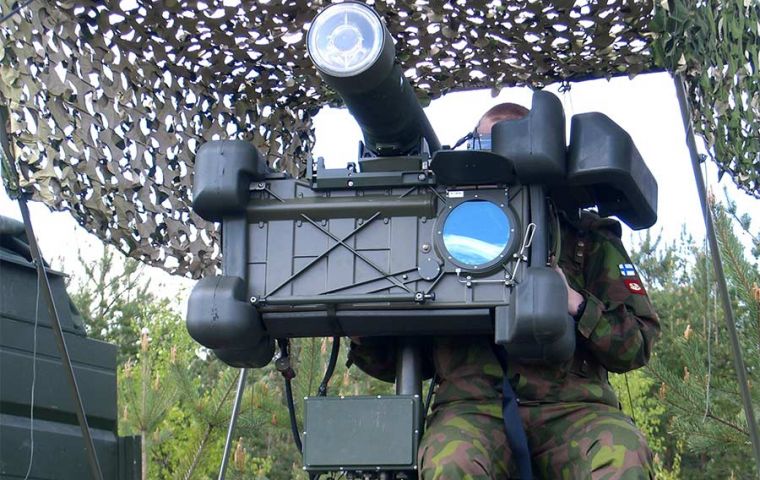 Argentina's Defense Minister Jorge Taiana Wednesday signed the so-called "Productive Cooperation Agreement" deal with Swedish developers SAAB Dynamics. The agreement provides for SAAB's support to the Argentine company INVAP for the integration of radars to the RBS-70 system, as well as for the technological transfer to the Armed Forces.
The new accord seeks "to strengthen the anti-aircraft defense capability, based on the acquisition of the RBS 70 NG (New Generation) short-range air defense system," the Ministry stressed.
One of the requirements of this contract was that a productive cooperation agreement (the "offset") be established, it was explained. This "offset" will include among its benefits the integration of the RBS 70 NG into the Argentine air surveillance and control system, which will allow radars to communicate and send target guidance to the RBS 70 NG. Through this project, SAAB will provide support to INVAP, in charge of developing the radars.
The agreement also foresees the modernization of the current RBS 70 systems to Next Generation level, among other advantages, in addition to the transfer of knowledge related to SAAB's expertise in missile technology.
"We are very pleased with the relationship we have been carrying on with SAAB, a leading company in Defense, and we want to advance in joint works with the possibilities offered by this offsets agreement to enhance our industrial capabilities, which for us is a very important part because it allows us to improve and acquire capabilities", said Taiana after the meeting.
"We continue to write on our long history of almost 40 years with Argentina. With this agreement, we are ready to further strengthen its air defense capability and prepare it for future needs," said Görgen Johansson, head of the SAAB Dynamics business area. "We want to advance in the joint work with the possibilities that this offsets agreement offers us to enhance our industrial capabilities".