Tense relationship between Ecuador and Argentina due to former minister's escape to Venezuela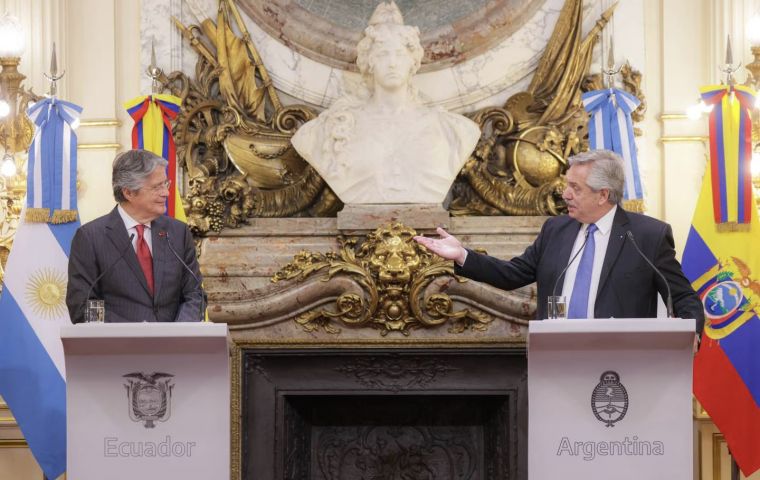 Ecuador expects to overcome the diplomatic crisis with Argentina soon after both nations withdrew their ambassadors amid questioning from Quito regarding the escape of a former minister convicted of corruption who was taking refuge in Argentina's diplomatic residence in Ecuador.
"We hope that this impasse will be resolved soon," said Foreign Minister Juan Carlos Holguín in an interview with Ecuavisa channel.
The head of Ecuador's diplomacy added that "a diplomatic break with Argentina (...) would be a counterproductive measure for a large number of Ecuadorians we have" in that country and for the "existing commercial relationships."
Yesterday, Ecuador recalled its ambassador to Argentina and declared Argentine Ambassador Gabriel Fuks persona non grata in Quito.
The crisis originated after María de los Ángeles Duarte, a former minister sentenced to eight years in prison, fled to Venezuela from Argentina's diplomatic headquarters in Quito, where she had been taking refuge since August 2020.
Buenos Aires responded to Quito's decision in the same vein and declared Ecuador's ambassador Xavier Monge persona non grata.
The Argentine government denied on Thursday having facilitated the escape to Venezuela of Duarte from her refuge in the Argentine embassy in Quito, while distancing itself from security issues in Ecuador.
As a result of the crisis, the Ecuadorian government "has had high-level conversations with President (Alberto) Fernández in the last few hours," Holguín said.
He stated that for now, Ecuador will only maintain its chargé d'affaires in Argentina.
The Argentine foreign ministry argues that "there is no international norm that obliges Argentine diplomatic authorities to exercise custody over Duarte."
However, Quito maintains that "at best, there was negligence in the care of Ms. (Duarte) and at worst, there was complicity in her escape," according to Holguín's statements.
Argentina had offered asylum to the former minister, but the Ecuadorian government denied her a safe conduct to leave in December.
Duarte was convicted along with former socialist President Rafael Correa - who is in asylum in Belgium - and other government officials for being part of a criminal structure that demanded bribes of nearly $7.6 million from companies in exchange for contracts with the State, according to the Prosecutor's Office.
With information from AFP