Antarctic sea ice hitting historic lows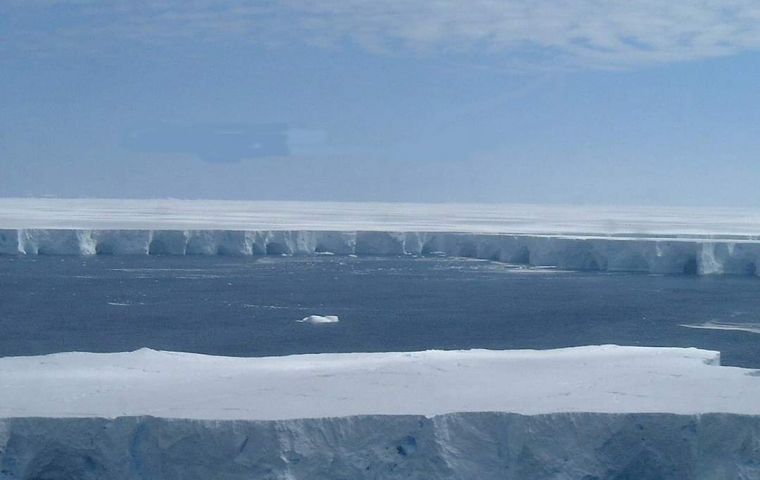 A website specialized in weather news published this past weekend a report stating that Antarctic sea ice reached another historic low after a trend of ice loss in recent years seems to have come to stay because while Antarctic sea ice shows an almost flat trend, the minima appear to have gained on that trend.
"The area of Antarctic ice reached an all-time low this year. The area lost is similar to that of the [Argentine] province of La Pampa, the Meteored report pointed out. It added that sea ice around Antarctica last month reached its smallest size since satellite monitoring began in 1979, although, in the long run, sea ice in Antarctic waters shows no significant variation. "As NASA's Earth Observatory points out, it is the declines in sea ice at the other pole, in the Arctic, that are pushing down the global sea ice trend," the article explained. "Unlike the Arctic, which is an ocean basin surrounded by land, the Antarctic is a large continent surrounded by an ocean," it also noted.
On Feb. 21, 2023, sea ice in Antarctica amounted to 1.79 million square kilometers, 130,000 km2 below measurements from Feb. 25, 2022. After pointing out that such a difference represented an area similar to that of the Argentine province of La Pampa, the report explained that it was the second time scientists had observed ice shrinking below 2 million square kilometers. Scientists cannot sentence so far whether this is a real change and a response to warming, or just a temporary variation. Antarctic sea ice peaks in September and usually retreats to a minimum in February.
Until 2016, the amount of sea ice in Antarctica showed an upward trend. "There is some discussion of Antarctic sea ice experiencing a regime shift since 2016 toward a generally lower extent, and that perhaps this could be a response to global warming; that is, the warming signal is starting to be seen in Antarctic sea ice above interannual variability," Walt Meier, a sea ice scientist at the National Snow and Ice Data Center (NSIDC) was quoted as saying.
Sea ice has increased somewhat in the eastern Ross Sea, while it has decreased in the seas surrounding the Antarctic Peninsula, the report also read. "Although many specialists believe that this recent trend to consolidate the minimums may be related to climate change, that assertion needs time to be affirmed or discarded," Meteored said.
(Source: https_www.meteored.com.ar )