Earthquake kills 14 in Ecuador and 1 in Peru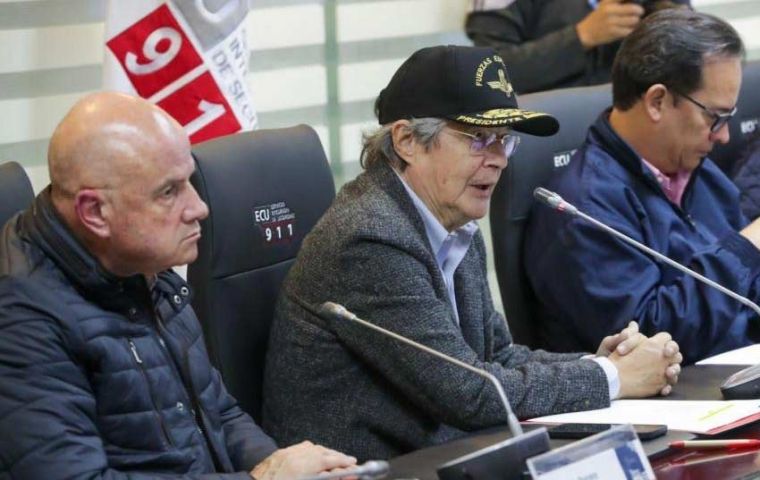 At least 15 have died after an earthquake of magnitude 7.0 shook northern Peru and southern Ecuador at 12.11 pm on Saturday, it was reported. The epicenter was said to be in Ecuadorian territory, 85 kilometers northeast of Zarumilla, in the Tumbes region, and 78 kilometers deep, according to the Geophysical Institute of Peru (IGP).
Meanwhile, the United States Geological Survey (USGS), which monitors seismic activity worldwide, reported a 6.7 magnitude quake 6 kilometers from the Ecuadorian city of Balao, Guayas province. State-run oil company Petroecuador reported that an offshore platform near the epicenter suffered damage that caused machinery to fail, temporarily reducing production.
Twelve casualties were reported in the Ecuadorian coastal town of El Oro and another two in the province of Azuay, while a 4-year-old girl died in the Peruvian city of Tumbes. More than 80 homes were completely destroyed and another 180 were severely damaged, according to local media. Other reports were mentioning 446 people injured, 252 of whom were eventually discharged from hospital. A total o 84 houses, 2 private properties, and 5 bridges were completely destroyed, while hundreds of other buildings were damaged. So far, 80 educational units, 33 health centers, 32 private properties, and 22 public properties were affected.
Ecuadorian President Guillermo Lasso visited the El Oro medical facility and also went to Azuay later in the day. "I have toured all the territories affected by the 6.5 magnitude earthquake. We will be with the entire Cabinet attending, immediately, this emergency," he posted on his social networks. "We are going to declare a state of exception, without restriction of rights, nationwide, in order to facilitate and accelerate the public procurement of the affected structures," said the Ecuadorian head of state Sunday.
After the first quake, an aftershock with a magnitude of 4.8 was recorded at a depth of 24 kilometers, according to Ecuador's Geophysical Institute. "It is a relatively high magnitude for what we have in the country. In the area of the Gulf of Guayaquil we have been having more or less since 2017 onwards around two earthquakes with magnitude greater than 5.0 per year," said Mario Ruiz, director of the Ecuadorian Geophysical Institute in a radio interview.
During his Sunday message, Pope Francis sent his condolences to the deceased and "all those who suffer" after the strong earthquake. Other governments, such as Chile and Cuba, also sent messages of solidarity.
Ecuadorian and Peruvian authorities worked on Sunday to assess the damage caused by the previous day's strong earthquake that shook the region, leaving at least 15 dead and hundreds injured.
During his Sunday message, Pope Francis sent his condolences for the losses and "all those who suffer" due to the earthquake. Other governments including Chile's and Cuba's also sent messages of solidarity.
Ecuador and Peru are part of the so-called Pacific Ring of Fire, an extensive area that surrounds the Pacific Ocean where clashes between the continental plates are frequent.