Trump says he will be arrested, calls for nationwide protests
Monday, March 20th 2023 - 15:14 UTC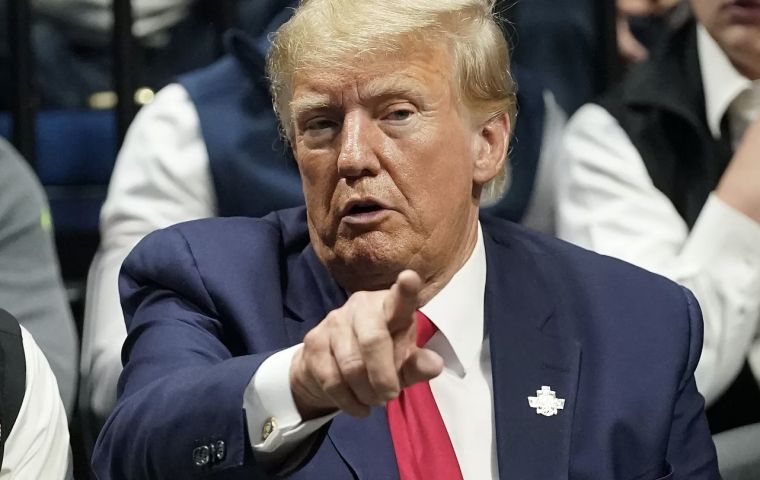 Law enforcement sources have not ruled out any deployment next Tuesday should former President Donald Trump be arrested as he has forecast on Truth Social, the network he founded after he was banned from Facebook and Twitter.
Trump said Saturday he would be incarcerated this coming Tuesday in connection with a case the New York Prosecutor's Office is handling against him for the alleged payment of US$ 130,000 to porn star Stormy Daniels to allegedly hush up a sexual relationship.
The former Republican President urged his followers to stage protests nationwide to "take back the nation" with a rhetoric reminiscent of the one he used in the days leading up to the Jan. 6 assault on Capitol Hill.
Trump said his fears were based on "illegal leaks from a corrupt and highly politicized Manhattan DA's office that has allowed new records to be set in violent crime and whose leader is funded by (billionaire) George Soros."
The nearly 5-year investigation covers the payment to Daniels in exchange for her silence during Trump's 2016 election campaign and appears to be focused on the falsification of Trump Organization business records for how it included reimbursement to Trump's former lawyer Michael Cohen, who said he advanced that money to the woman. Cohen, five years ago, pleaded guilty in federal court to making an illegal payment to Daniels (whose real name is Stephanie Clifford) for the "principal purpose of influencing" the 2016 presidential election and said he did so at Trump's direction. Cohen was sentenced to three years in prison for that and other crimes.
Two hours after the posting, a spokesman for the former president issued a statement saying that Trump had not written it with more information than was available to the rest of the public and that in doing so he lacked details about the timing of the alleged arrest or even whether it will occur.
The New York Times last week quoted four anonymous sources with knowledge of the Stormy Daniels case as saying that the former president had been given the opportunity to appear before a Manhattan grand jury.
Daniels claims she had a sexual relationship with Trump and that she received US$ 130,000 in the final days of the 2016 presidential campaign in exchange for her silence. Trump has always denied such a relationship, although his former lawyer Michael Cohen pleaded guilty in 2018 to a federal crime for having made that payment.
With no confirmation of any criminal charges against Trump, media reports have indicated law enforcement agencies in New York City have been discussing security arrangements for the surrender of Trump, should he be indicted. In advance of his possible arrest, some Republicans have come to Trump's defense, including former Vice President Mike Pence.
"Here we go on to another politically charged prosecution," Pence told ABC's "This Week" show while acknowledging that "I can't speak to the merits of the case." However, "history will hold Donald Trump accountable for the events of January 6," Pence added after admitting he and Trump have "just gone our separate ways."
If Trump were to be criminally charged it would mark the first time in American history a former president is arrested. Richard Nixon, who resigned as president in 1974 due to the Watergate scandal and was subsequently pardoned by his successor Gerald Ford, is the only former U.S. president to face the potential level of legal jeopardy confronting Trump. Unlike Nixon, who faded into obscurity after his ignominious departure from the White House, Trump is running again for president after losing in 2020. Only one president has ever achieved a nonconsecutive comeback, Grover Cleveland, in 1892.
A surrender by Trump at the office of the Manhattan district attorney would likely attract demonstrators and potential physical clashes between the former president's supporters and detractors, due to which several law enforcement agencies are reportedly discussing "security preparations."
Michael Avenatti, the attorney who represented Daniels in her effort to extricate herself from the non-disclosure agreement she signed with Cohen, was sentenced last year to four years in prison for defrauding the adult film actress of some US$ 300,000.