Argentine gov't to pesify state-held securities in foreign currency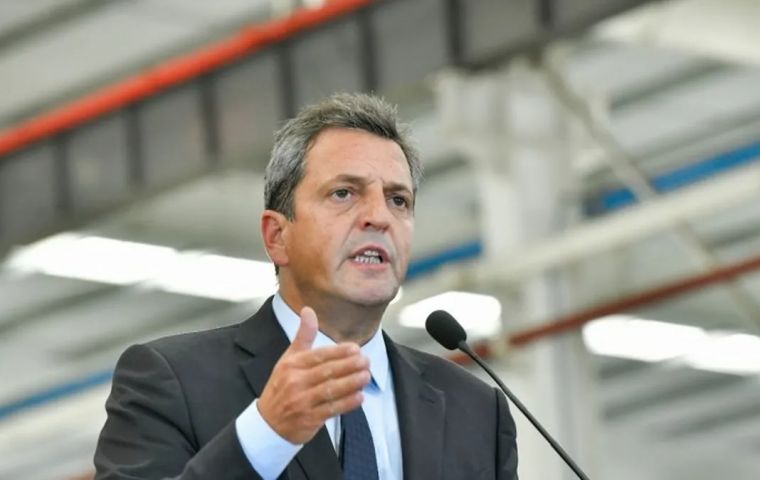 Argentina's Economy Minister Sergio Massa and his aides held a working lunch Wednesday with a group of businessmen from banks, insurance companies, and investment funds, during which the new measures adopted to control a ballooning exchange rate between the local currency and the US dollar were outlined.
Deputy Economy Minister Gabriel Rubinstein explained that "today we started to give depth to the local law bond market in dollars, starting with the purchase of global bond holdings of public entities, which will allow lowering the foreign law public debt (global) by some 4 billion dollars initially."
"The State, without using Central Bank reserves, will continue to redeem and delist global bonds, reducing foreign debt", he added. After the announcement, the US dollar did fall against the Argentine peso, although the new measures "will take some days" to be implemented, according to Economy Ministry sources quoted by local media.
"In a sustained manner, the State will be gaining a capacity to act in the financial dollar markets, which will allow avoiding disruptive increases in the Contado con Liquidación (CCL) and the dollar exchange (MEP), a key factor for the deployment of measures that strengthen the macroeconomic order," Rubinstein explained by mentioning some of the different quotations for foreign currency available in an overcomplex financial market.
Buenos Aires Stock Exchange President Adelmo Gabbi, supported the measures and said that they are going to be "positive." Other participants of the meeting also welcomed the government's initiative.
As per the new emergency decree, public agencies must sell their bonds in dollars in order and keep their securities in pesos, which would result in public debt under foreign law reduced initially by about US$4 billion. Among the agencies involved is the pension funds administrator ANSES, which the opposition fears might affect retirement plans in the near future.
"The State, without using BCRA reserves, will continue to redeem and delist global bonds, reducing foreign debt. On the other hand, restrictions that investors have today to buy AL Bonds will be released and this new demand will be supplied by the MECON and BCRA, in coordination with market players," Rubinstein pointed out.