Latin America and Caribbean: 37 million people lack drinking water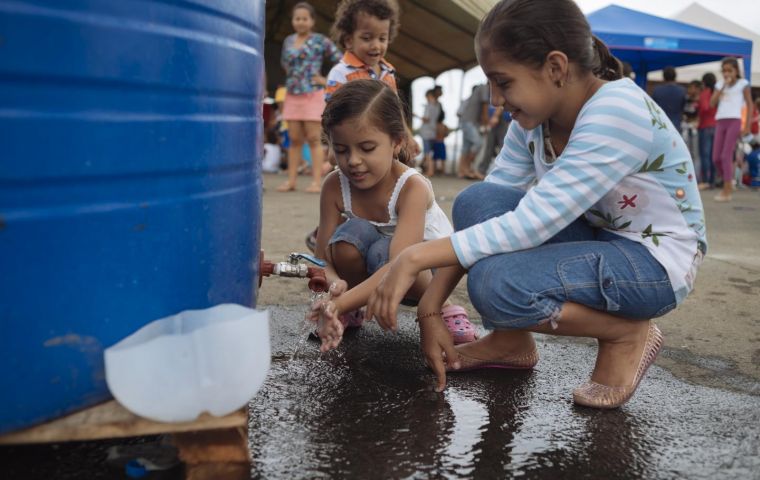 The Organization of American States (OAS) denounced this week that some 37 million people in the region lacked drinking water and cited climate change as a possible cause.
The OAS also warned Wednesday that nearly 50% of the people in the region live in areas of "extreme" and "high" climate vulnerability and 110 million people "do not have access to modern sanitation services."
According to the OAS, climate change exacerbates the challenges of water resource management in the region and cites as an example the accelerated loss of South American glaciers, which "affects the provision of water for human consumption, agricultural use, and hydroelectric power generation."
Droughts and water shortages in Central America and the Caribbean "caused greater poverty, food insecurity and migration and increased gender gaps," the OAS also pointed out.
Today "time is running out, and it is necessary to step up the pace" to achieve the goal of Water for All, one of the UN's Sustainable Development Goals, the OAS insisted.
Meanwhile, also on Wednesday marking International Water Day, United Nations Secretary-General António Guterres warned at the opening of the United Nations conference on water in New York about the "imminent risk of a global water crisis." The Portuguese diplomat also feared that "the lifeblood of humanity" was being "drained," and insisted that agriculture alone "absorbs 72% of the water."
Guterres also denounced that the world population has "broken the water cycle, destroyed ecosystems, and polluted groundwater."
"We have broken the water cycle. We are draining the lifeblood of humanity through vampiric overconsumption and unsustainable use and evaporating it through global warming," Guterres warned. He also recalled that nearly "three out of four natural disasters are water-related."
A recent joint report by UN-Water and Unesco warns of the "imminent risk of a global water crisis" and stresses that while in some places the resource is lacking, in others floods or contaminated water are multiplying. Hence, UN-Water and Unesco warned of the "imminent risk of a global water crisis."
Some 6,500 dignitaries including a hundred ministers and some heads of state and government are convening until Friday in New York to try to find a solution and reverse the trend by 2030. "There is a lot to do and time is not on our side," said Gibert Hougbo, president of UN-Water, the platform that coordinates the UN's work. The previous conference had been organized in 1977 in Mar del Plata.