Falklands contracts qualified explosive ordnance disposal expert for housing development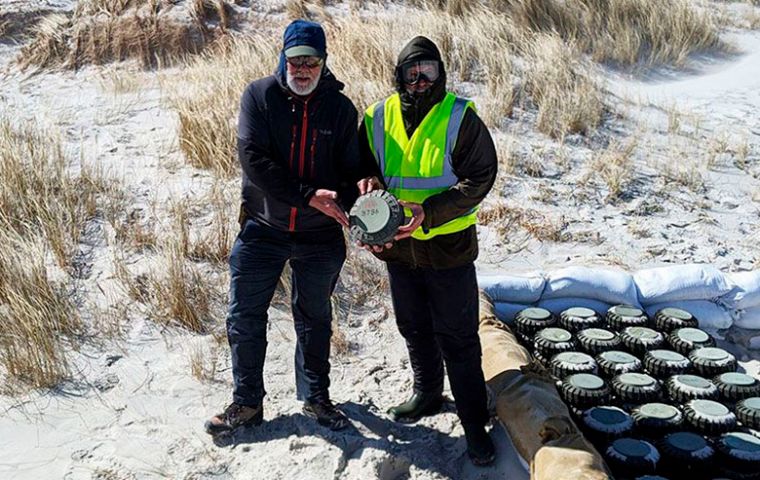 Following an extraordinary sitting of ExCo, it has been approved for Fenix Insight Ltd to provide a qualified Explosive Ordnance Disposal (EOD) Adviser for the development works of Bennett's Paddock. This decision follows the discovery of a number of unexploded munitions while excavation work has been undertaken to develop properties.
Guy Marot OBE has agreed to take on this role, having previously worked in the Islands with the demining programme which ended in 2020.
By employing an EOD Adviser, who will also provide the function of an EOD banksman on site, Fenix Insight Ltd will be able to provide full time on-site support and advice prior to and during construction operations at Bennett's Paddock. On discovery of any munitions the EOD banksman will liaise with the EOD section of BFSAI to agree and support an appropriate removal and disposal plan.
The EOD Adviser will conduct initial training to all relevant staff and provide routine EO safety and awareness briefings. Two on-Island workers have also been identified to assist Guy in his work, and to provide further local support if an EOD banksman is unavailable.
The BFSAI EOD Team is fundamental to the safe and effective delivery of this project. However, by having a dedicated and qualified adviser on site will help to reduce the workload on the EOD team and will enable them to continue their work on other areas throughout the Falklands. The EOD team will be a critical to the disposal of any munitions found and will work closely with the EOD banksman.
Landowners who have currently been unable to start building will be informed in due course when their plot is ready to be developed. Owners will be asked to remain in contact with the Public Works Department during the excavation phase of the groundworks on their plot in the event that any munitions or unidentified objects are discovered.
The EOD Adviser, Guy Marot can be contacted on: 56883, GMarot@fenix-insight.com or guymarot@gmail.com