Lugo back in Asunción; Paraguay eager to know whom he will endorse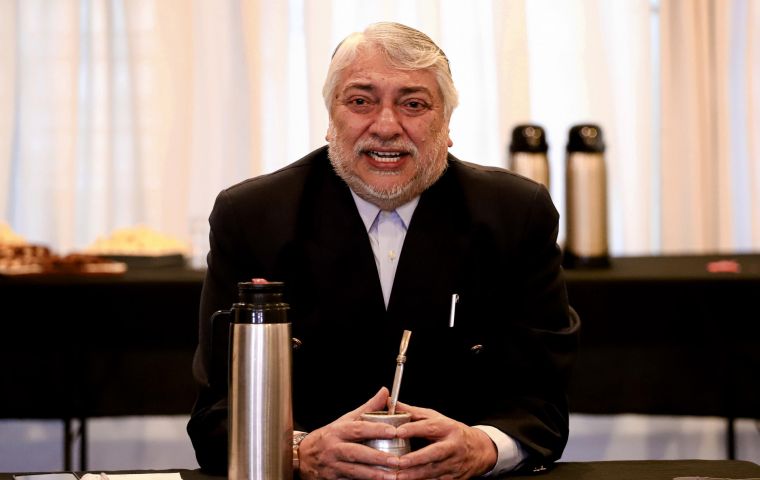 Former Paraguayan President and current Senator Fernando Lugo returned to Asunción Friday on a private flight after eight months of medical treatment in Buenos Aires for a brain stroke. Little over a month before the April 30 elections, opposition politicians still wonder whom the former Catholic bishop will favor: former Foreign Minister Euclides Acevedo (New Republic) or Efraín Alegre (National Concertation)
Lugo remains the only opposition candidate ever to have beaten the Colorado Party at a presidential election. Hence the significance of his support. But now part of Lugo's Frente Guasu responds to Acevedo's candidacy and the other to Alegre's project.
"His return and his improvement are the best news for a country that is recovering hope for the future. Adding his forces to the Concertación, the change is coming," Alegre said. Lugo's son-in-law, Luis Paciello, was quoted as saying that Lugo was within the Concertación group, which he "never left" because "while Euclides is a friend of his, Fernando Lugo always supported the Concertación and is a part of it ... he never stopped being part of it. He is anxious to resume the work to unite the opposition," Paciello insisted.
"He was very happy to return. I think it is a very important moment, even for democracy because his political leadership is very important. For us, it is a miracle how he is," he also explained.
"Clinically, he is perfect," said fellow Frente Guasu Senator Jorge Querey, who is also Lugo's personal physician. "Medically speaking, he is with good blood pressure, with good vital signs, he is well awake, he recognized me, we shook hands, he hugged me...," Querey told reporters. Regarding political rallies, Senator Querey said he advised Lugo against engaging in those activities.
"His level of understanding is excellent, he understands the whole environment. When he has to speak at length he gets stuck, that will be a difficulty until he recovers all the neurolinguistic part," Querey also pointed out.
Asked about Lugo's political stance, Querey replied that "I will not touch any political issue with him for ethical reasons unless he tells me to, I am a doctor and that is my relationship with him."
"Fernando Lugo always had a gigantic autonomy and surprises can happen with him", he pointed out. Finally, he mentioned that at some point there will be a meeting with all the leaders of the Frente Guasu to talk with the former president about the Concertación.