An optimistic Lacalle warns about authoritarian temptations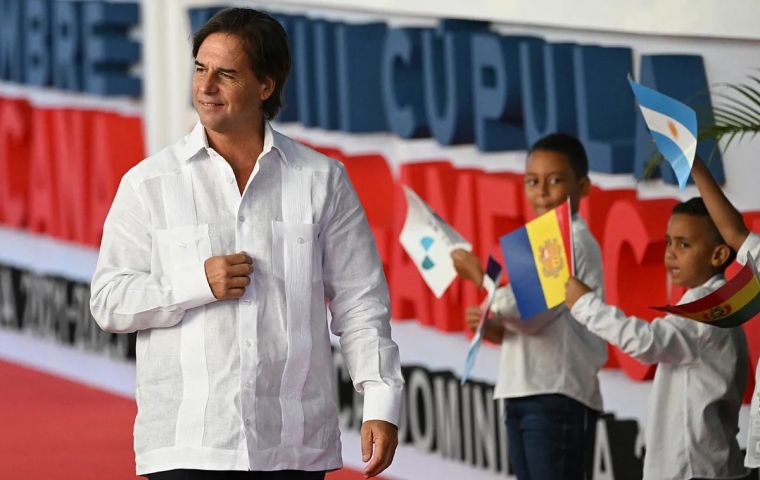 During his speech at the XXVIII Ibero-American Summit in Santo Domingo, Uruguayan President Luis Lacalle Pou spoke about the need to "serve the weakest" and avoid "authoritarian temptations." Lacalle also underlined the importance that ratifying the Mercosur trade deal with the European Union would have in that regard.
Lacalle also described the Ibero-American Summit of businessmen held at the Dominican Republic's capital as a "bath of realism and optimism" when people at such a young age embrace the causes of their nations with political activity as a valid instrument.
"Sometimes, there is an unnatural divorce between the false dichotomy of the private sector and the public sector," Lacalle also said. "In the speeches and proclamations (of the businessmen summit) it is clearly established that there is an intertwining between the government and the businessmen for the progress of our societies," he added.
Lacalle Pou insisted on the importance of Mercosur reaching an agreement with Europe. It is necessary to "try to make it known that the continuous failures and frustrations of ending up forming these alliances, end up frustrating those partners who were so optimistic at the beginning."
The Uruguayan leader also spoke of "a tendency, which is almost an automatic reflex, to look for those responsible for our ills outside ourselves" because "it is always the fault of the United States, or China, or the great powers." Lacalle suggested looking inward because "there is no better system so far within its imperfection than democracy."
"Justice, as such, can only be ensured with strong institutions, with separation of powers, and with respect for human rights. The authoritarian temptations of believing that one is good enough to impart Justice to be a just society is a temptation that we should not have," Lacalle also told the Summit.
"Democracy, in order to be complete, is not only an electoral system and elections in certain terms and respect for the powers. It must also serve those citizens under those governments and above all those who need democracy the most, who are always the weakest; the strongest, in any regime, come out ahead. If there is one thing that democracy does, it is to protect those who really cannot do it on their own," Lacalle underscored while highlighting the sustainability of political and democratic processes.
Lacalle also said he was optimistic because in most international forums environmental issues go hand in hand with economic issues: "There is a historical divorce between environmental care and the economy because the processes are more onerous in environmental care for several reasons".
"I am optimistic that we can find common ground. It is true that together we are more. It is true that each country has its strengths and weaknesses. Let us work on accepting and coexisting with our disagreements, as long as we are convinced, as our country is, that our consensus or our things in common is what makes us strong, what has made us strong in history, and surely in the future," Lacalle stressed.
It is good that "Latin America and the closest European peoples, such as Spain and Portugal" sit down, it is good to "claim and insist on some agreements of some regional blocs, as in the case of Mercosur, with Europe," Lacalle insisted.