Maduro finally skips Ibero-American Summit despite announcements otherwise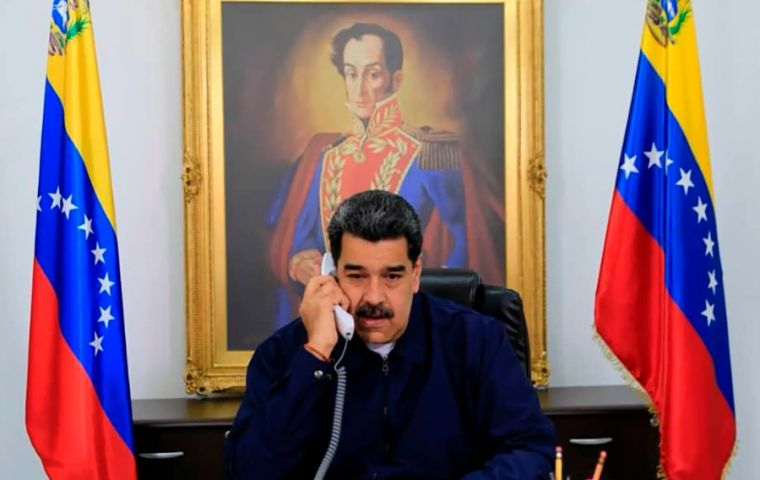 Venezuelan President Nicolás Maduro Moros canceled his trip to the Ibero-American Summit in Santo Domingo, Dominican Republic, thus joining Mexico's Andrés Manuel López Obrador, Brazil's Luiz Inácio Lula Da Silva, and El Salvador's Nayib Bukele as those leaders missing the regional event.
Venezuela was represented instead by Vice President Delcy Rodríguez after the Dominican organization had announced that Maduro was expected to attend the meeting.
Sources of the Argentine delegation quoted by Infobae said Maduro canceled his trip because he would have Covid-19, but there was no confirmation from Caracas. Maduro usually cancels this kind of appointment at the last minute.
In January, he skipped Lula's inauguration in Brasilia and the Celac summit in Buenos Aires.
Had he traveled to Santo Domingo, it would have been his first participation in this forum since 2013 when he succeeded the late Hugo Chávez.
Maduro has not been recognized as the legitimate president of Venezuela by several countries worldwide, such as Ecuador, Paraguay, and Spain, claiming he had won through rigged elections in 2018. But Latin America's recent shift to the left in countries such as Argentina, Chile, Colombia, and Brazil improved the international outlook for Maduro, while the Venezuelan opposition keeps losing strength. Maduro will now seek a third six-year term in 2024.
"This will be a summit dedicated to people and aimed at having concrete results," said the head of the Ibero-American General Secretariat (Segib), Chile's Andrés Allamand, who was the first to speak at the opening ceremony.
Allamand assured that this summit is aimed at "obtaining concrete results that will have a positive impact on the quality of life of Ibero-Americans".
As host, Dominican President Luis Abinader underscored the need to strengthen and expand integration spaces such as this Ibero-American community, "united not only by languages, history, and geography but also by a common vision of the main challenges facing humanity."
"There are more ties that unite us than differences that separate us", emphasized the Dominican president, for whom "only through collaboration and joint work can we address the challenges of our time," Abinader said.
"Today, at a crucial moment for humanity, when we are facing a change of era, paradigms and models that we took for granted, more than ever it is necessary to rescue the possible utopia that encouraged men and women of our land to aspire to a more just society for all," he added.
Abinader asserted that there are "common challenges that demand collective responses, and the first is the one facing democracy and freedom due to an 'overwhelming' polarization of the political debate and a growing dissatisfaction with the quality of democratic governance, a scenario in which extremist discourses and the threatening shadow of authoritarianism flourish."
"To revitalize our democracies, it is essential to maintain the irreducible commitment to the defense of freedom, collective well-being, and political action free of sectarianism," he said.
He also appealed to concrete results, based on broad national consensus, as the only way to "disarticulate the extremism that endangers democracies", for which he urged his guests to develop the capacity to overcome political differences and dialogue in a sincere and friendly manner."
(Source: Infobae)